You are here
Back to top
Surviving the White Gaze: A Memoir (Paperback)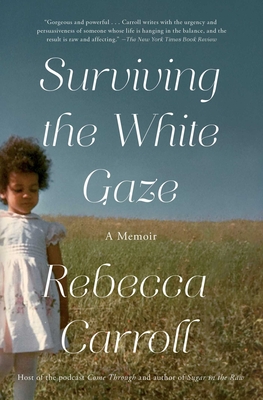 $18.99

Usually Ships in 1-5 Days
Description
---
An Esquire Best Book of 2021

A "gorgeous and powerful" (The New York Times Book Review) memoir from cultural critic Rebecca Carroll recounting her painful struggle to overcome a completely white childhood to forge her identity as a Black woman in America.

Rebecca Carroll grew up the only Black person in her rural New Hampshire town. Adopted at birth by artistic parents who believed in peace, love, and zero population growth, her early childhood was loving and idyllic—and yet she couldn't articulate the deep sense of isolation she increasingly felt as she grew older.

Everything changed when she met her birth mother, a young white woman, who consistently undermined Carroll's sense of her Blackness and self-esteem. Carroll's childhood became harrowing, and her memoir explores the tension between the aching desire for her birth mother's acceptance, the loyalty she feels toward her adoptive parents, and the search for her racial identity. As an adult, Carroll forged a path from city to city, struggling along the way with difficult boyfriends, depression, eating disorders, and excessive drinking. Ultimately, through the support of her chosen Black family, she was able to heal.

"Generous, intimate, searching, and formidable" (The Boston Globe), Surviving the White Gaze is a timely examination of racism and racial identity in America today.
About the Author
---
Rebecca Carroll is a writer, cultural critic, and host of the podcasts Come Through with Rebecca Carroll (WNYC Studios), and Billie Was a Black Woman. Her writing has been published in The New York Times, The Atlantic, Essence, New York magazine, and The Guardian, where she was a regular columnist for two years. A former cultural critic for WNYC, and critic-at-large for the Los Angeles Times, she is an editor-at-large for The Meteor media collective, as well as the author of several interview-based books about race in America, including the award-winning Sugar in the Raw: Voices of Young Black Girls in America. She lives in Brooklyn with her husband and son.
Praise For…
---
"Gorgeous and powerful… In nuanced and richly textured scenes, Carroll reminds us how identity, particularly racial identity, is forged in a thousand different moments… Carroll writes with the urgency and persuasiveness of someone whose life is hanging in the balance, and the result is raw and affecting." — The New York Times Book Review

"Carroll unearths complex, uncomfortable truths about legacy and parenthood in her memoir... Her voice is generous, intimate, searching, and formidable, her story excavated from her core and delivered with fervor and clarity." — The Boston Globe

"Should be required reading."—People

"Searing....In this vulnerable and layered meditation on race, adoption, and family, chosen and otherwise, Carroll unspools a poignant story of becoming." — Esquire

"A probing, wise investigation of racial identity... The narrative, which reflects the author's 'decades-long, self-initiated rite of passage,' is a blunt, urgent study of racial identity. A deeply resonant memoir of hard-won authenticity." — Kirkus Review (starred review)

"A moving narrative... Carroll's memoir is intelligent, melancholic, and searching. She reveals that just past survival, it is possible to find peace, and joy." — Roxane Gay, New York Times bestselling author of Bad Feminist and Hunger

"Carroll shows, page after page, how the journey to, and through, survival, necessitates unrelenting interrogation of the nation's cauldron of innocence. Carroll has crafted a book as textured, layered and effective as any memoir penned in the 21st century." — Kiese Laymon, bestselling author of Heavy: An American Memoir

"In this moving and sobering book, Rebecca Carroll has extraordinary retrospective wisdom. It is a profound study of identity published as the world struggles with the nature of justice, a deeply important book for our time." — Andrew Solomon, the bestselling author of Far from the Tree

"Rebecca Carroll has devoted her life to sharing, developing, and amplifying our stories—and our story. And in Surviving the White Gaze she tells us hers with the same rigor, the same verve, and the same radical vulnerability that reminds us why we're lucky to have her." — Damon Young, bestselling author of What Doesn't Kill You Makes You Blacker

"Surviving The White Gaze is an absolute gift to the reader: unputdownable, edifying, deeply moving. Rebecca Carroll gives us a candid and singular memoir, one that is both intimate and universal in its storytelling. It's also a witty and riveting portrait of the youthful emergence of one of our finest critics and thinkers – a highly rewarding journey to share." — Jami Attenberg, bestselling author of All Grown Up

"Surviving the White Gaze cuts through all the gauzy platitudes and fragile myths we tell ourselves about family, race and belonging in this country. Heartbreakingly beautiful, full of richly crafted writing, this account is a must for anyone wanting to figure out how to build a better world, and how to survive this one." — Kaitlyn Greenidge, author of award-winning novel We Love You, Charlie Freeman

"Rebecca Carroll's ability to weave and craft the harshest memories into lush and poignant art is unparalleled. Carroll is a miracle and wonder of a human being— she is a gift to us and this book is another way she keeps giving." — Bassey Ikpi, bestselling author of I'm Telling the Truth, But I'm Lying

"A searing, vibrant testimony to the power of seeing yourself when others can't— or won't." — Mira Jacob, author of award-winning graphic memoir Good Talk: A Memoir in Conversations

"Not only does Rebecca Carroll survive the white gaze, but she discovers her own black gaze — in all its power, complexity, and transformative brilliance. From start to finish I was enthralled by this book." — Danzy Senna, author of Caucasia and New People

"Surviving the White Gaze is not just about survival, but interrogation: of family, race, power and the lasting impact of intimate harm. Carroll trains her own formidable gaze on her origins, the stories that get told about them, and her drive to wrest some control of her own narrative and identity. She is precise and unsparing as she examines the most delicate of her relationships in this vulnerable and rigorously-considered volume, which is also simply the story of a young woman growing into herself — it is a joy to read." — Rebecca Traister, bestselling author of All the Single Ladies and Good and Mad

"A deeply courageous memoir of race, family, the stories we're given and the stories we have to claim for ourselves. 'Thankful' can be a loaded word for adoptees, but I am and have long been thankful for Rebecca Carroll's bravery and her honest, uncompromising voice." — Nicole Chung, bestselling author of All You Can Ever Know