You are here
Back to top
Knocked Down: A High-Risk Memoir (American Lives ) (Paperback)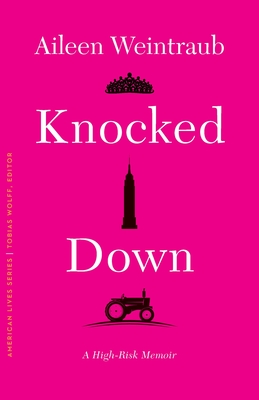 $22.95

Usually Ships in 1-5 Days
Description
---
A laugh-out-loud memoir about a free-spirited, commitment-phobic Brooklyn girl who, after a whirlwind romance, finds herself living in a rickety farmhouse, pregnant, and faced with five months of doctor-prescribed bed rest because of unusually large fibroids.

Aileen Weintraub has been running away from commitment her entire life, hopping from one job and one relationship to the next. When her father suddenly dies, she flees her Jewish Brooklyn community for the wilds of the country, where she unexpectedly falls in love with a man who knows a lot about produce, tractors, and how to take a person down in one jiu-jitsu move. Within months of saying "I do" she's pregnant, life is on track, and then wham! Her doctor slaps a high-risk label on her uterus and sends her to bed for five months. 

As her husband's bucolic (and possibly haunted) farmhouse begins to collapse and her marriage starts to do the same, Weintraub finally confronts her grief for her father while fighting for the survival of her unborn baby. In her precarious situation, will she stay or will she once again run away from it all?  

Knocked Down is an emotionally charged, laugh-out-loud roller-coaster ride of survival and growth. It is a story about marriage, motherhood, and the risks we take.
About the Author
---
Aileen Weintraub is an award-winning author, journalist, and editor. She has written for the Washington Post, Glamour, NBC, and AARP, among others. She has also published several children's books, including Never Too Young! 50 Unstoppable Kids Who Made a Difference and We Got Game! 35 Female Athletes Who Changed the World.
 
Praise For…
---
"Love, marriage, and a harrowing pregnancy yield a haunting story of survival in this gripping account."—Publishers Weekly

"Can a high-risk pregnancy, a marriage on the rocks, financial problems, a falling-down house in the middle of stalled renovations and lingering grief for a beloved dead father add up to a riotously funny read? The answer is yes, at least when the author is the gifted humorist Aileen Weintraub."—Elizabeth Edelglass, Hadassah Magazine

"Knocked Down is a big-hearted, hilarious, and moving account of staying put, rooting in, and learning how to persevere together—as a married couple, as a family, and in community with others."—Kerry Neville, Hippocampus

"Aileen Weintraub's debut memoir, Knocked Down: A High-Risk Memoir, is an intimate and introspective story about her complicated pregnancy and the reverberating effects on her marriage, religious beliefs, and identity as a mother. Despite the uncertain future Weintraub and her unborn child face, this mostly chronological memoir is chock-full of witty observations and humorous reflections."—Erin Fogarty Owen, Linden Review

"The truth is, we can never know what tomorrow will bring. Even the best prepared will be knocked to the ground, bewildered by what life brings. The wisdom of this memoir is in the striving for acceptance of all life's travails for what they are, as they come. The darkest of times may seem endless, but with humor and the love of a (quirky) family, this book shows that we can make it through."—Mikhal Weiner, Literary Mama

"Aileen Weintraub has written a profoundly honest memoir that is sometimes painful but always loving, as she walks us through her journey from Brooklyn childhood to rural living. Heartfelt and often humorous Jewish culture meets rural farming culture, all coming together in the glorious Hudson Valley. It took us back to the best moment of our lives—the beginning of making a family."—Mandy Patinkin and Kathryn Grody

"This memoir of an almost inconceivably difficult pregnancy (pun intended) involves multiple dichotomies: urban/rural, male/female, Jew/non-Jew, life/death. Weintraub handles these oppositions with the deft, stunning, and mesmerizing touch of a writer who knows when to weep and when to laugh, when to hold on and when to let go. Whatever the opposite is of 'elegy,' this is it."—Sue William Silverman, author of How to Survive Death and Other Inconveniences

"A gripping blend of humor and poignancy. . . . Weintraub's keen eye for detail and breathless storytelling make this sharply observed memoir impossible to put down."—Sari Botton, author of And You May Find Yourself: Confessions of a Late-Blooming Gen X Weirdo

"Knocked Down is a funny and poignant story of a pregnant urban girl suddenly uprooted and forced to rediscover herself in a possibly haunted old ramshackle farmhouse—a brave and vibrant story of self-discovery and grace."—Aspen Matis, #1 Amazon best-selling author of Your Blue Is Not My Blue and Girl in the Woods

"Knocked Down engaged me from the opening lines. This is a wonderfully nuanced story, at turns laugh-out-loud hilarious and heartbreaking, rooted in love, romance, community, and resilience. I loved this book."—Elissa Altman, author of Motherland