You are here
Back to top
iPad with iOS 11 and Higher for Seniors: Learn to work with the iPad (Computer Books for Seniors series) (Paperback)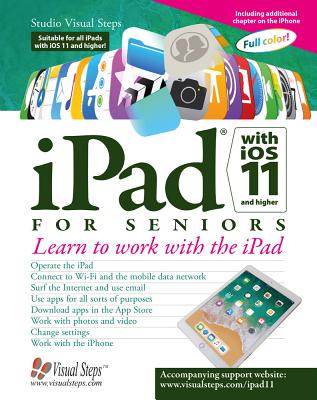 Description
---
If you own an iPad and you would like to learn how to use it, then this is just the right title for you! You will get acquainted with the most important options, all at your own pace. Before you know it, you will be sending email and searching the Internet for information.
In the first chapter, you learn how to set up the iPad and connect it to a Wi-Fi or mobile data network. Next, you start surfing the Internet and using email and other apps (programs) for various purposes such as keeping a calendar or planning a trip.
In the App Store are lots of additional (free) apps available for your iPad. This book will show you how to install such an app. You will also practice taking pictures and recording video with your iPad, and you even learn how to adjust various settings that can make working with the iPad easier.
If you have an iPhone, there is an additional chapter covering iOS 11 for that as well. In short: this is the ideal title for learning how to work with the iPad!
Learn how to:
* Operate the iPad
* Connect to Wi-Fi and the mobile data network
* Surf the Internet and use email
* Use apps for all sorts of purposes
* Download apps in the App Store
* Work with photos and video
* Change settings
* Work with the iPhone
Suitable for:
All iPads with iOS 11 and higher.
The iPhone is discussed in an additional chapter.
About the Author
---
Studio Visual Steps is a team of experienced professionals dedicated to producing useful and informative technology titles.