You are here
Back to top
G.I.L.T. (Paperback)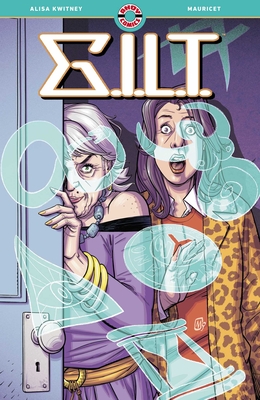 $16.99
Email or call for price.
Description
---
Eisner-nominated comics writer and novelist Alisa Kwitney (Rogue: Untouched) and artist Mauricet (Star Wars Adventures) are sending the most unlikely pair of time travellers back to the 70s on the day they first met in G.I.L.T.

Meet Hildy Winters, a tough, outspoken survivor of New York City's Upper West Side-with her very own time-travel portal. For Hildy belongs to G.I.L.T., the Guild of Independent Lady Temporalists. Their prime directive: Do not alter the past without co-op board approval!

G.I.L.T. follows two very different women whose lives become entangled when they both slip through a portal in time to the day they first met in 1973. Trista is the Bill Murray of home health care aides, a cynical screw-up who doesn't care for anything but her Fleuvog shoes and her paycheck. She meets her match in Hildy, a sarcastic second-wave feminist living on a steady diet of cigarettes and regret. When Hildy seizes her last chance to return to a fateful day in 1973, she accidentally takes Trista along for the ride. But as the old saying goes, there are no accidents in time travel. And Hildy and Trista don't remember each other, but they met each other forty years earlier—on Hildy's wedding day. Now they've got to come to terms with the past before they accidentally dismantle the future.
About the Author
---
Alisa Kwitney was an editor at DC Comics/Vertigo and is the Eisner-nominated author of graphic novels, romantic women's fiction and urban fantasy. She was one of the authors of A Flight of Angels, which made YALSA's Top Ten List for Great Graphic Novels for Teens, and the YA graphic novel Token, named a highlight of the Minx imprint by PW. Alisa has an MFA from Columbia University. Her thesis, Till the Fat Lady Sings, a comedy of manners about college and eating disorders, made The New York Times' new and noteworthy in paperback list. The first issue of her latest comic book series, Mystik U, is coming out November '17 from DC Comics. Her first YA novel, Cadaver & Queen, will be coming out with Harlequin Teen in February '18.

Mauricet is a Belgian artist/cartoonist, best known in the USA for IDW's Star Wars Adventures and various books at DC, including Dastardly and Muttley and a bunch of Harley Quinn books, most recently co-creating Old Lady Harley. He collaborated with Image, Crossgen and Ahoy for whom he co-created Major Ursa with Tyrone Finch. He's also worked for the European market drawing several graphic albums for Casterman, Dupuis and Bamboo.
Praise For…
---
Alisa Kwitney has an understanding of human foibles and lust, and a light, intelligent touch that marks her as an author to watch and enjoy.
— Neil Gaiman

Doing over the 1970s when you're in your 70s is the irresistible premise of Alisa Kwitney's G.I.L.T.--the Guild of Independent Lady Temporalists. This is a comic book for women who don't read comic books, a hilarious, insightful, sophisticated look at age, magic, and the wish to finally, blissfully get it all right.


— Pamela Redmond (author of Younger)