You are here
Back to top
Brother of the More Famous Jack: A Novel (Paperback)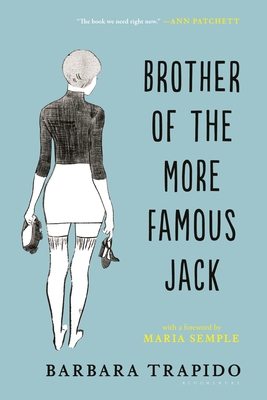 $16.00
Usually Ships in 1-5 Days
Description
---
Ask today's favorite novelists what books influenced their writing and you'll hear Brother of the More Famous Jack again and again. Dog-eared copies of this long out-of-print novel are highly prized and shared enthusiastically in literary circles-its return to print is cause for celebration.
Stylish, suburban Katherine is eighteen when she is propelled into the heart of Professor Jacob Goldman's rambling home and his large eccentric family. As his enchanting yet sharp-tongued wife, Jane, gives birth to her sixth child, Katherine meets beautiful, sulky Roger and his volatile younger brother, Jonathan. Inevitable heartbreak sends her fleeing to Rome, but ten years later, older and wiser, she returns to find the Goldmans again.
"Why did it take me so long to discover the singular joys of Barbara Trapido's novels? Why, for so many years, had I missed these witty, soulful, heartbreaking, expansive, brilliant tales? What have I been wasting my time doing? Reading books that AREN'T perfect? Never again! Since finally discovering Trapido in 2012, I have become a literary evangelist on her behalf. On account of my badgering, all my friends now love her, too. I won't rest until everyone in America has read (and fallen in love with) this fabulous author." -Elizabeth Gilbert
About the Author
---
Barbara Trapido is the author of seven novels including Brother of the More Famous Jack (winner of a Whitbread special prize for fiction), Temples of Delight (shortlisted for the Sunday Express Book of the Year Award), The Travelling Horn Player, and, most recently, Frankie and Stankie (shortlisted for the 1998 Whitbread Novel Award and longlisted for the Man Booker Prize). She lives in Oxford.
Praise For…
---
"An unpretentious and very funny book . . . A complex and highly polished work . . . . Barbara Trapido has that rare ability to make her characters respond to small misfortunes and irritations exactly as people do." - New York Times
"This is a first novel, for Barbara Trapido, but if established writers could get this good on the seventh try, readers would be the richer for it. What a lovely novel . . . Barbara Trapido, where have you been?" - USA Today
"If you've been looking for a modern love story that shines with off-beat charm and sprightly intelligence--not to mention elegance of style--take heart . . . . This brief account cannot do justice to the wry, civilized tone and understated wit that lights up Trapido's writing." - San Francisco Chronicle
"A staggeringly competent first novel." - Boston Globe
"Should be required reading for all men who are interested in smart, attractive women, and in what life looks like from their side ... Funny, charming, teeming with life, and real." - Nick Hornby, Esquire