You are here
Back to top
The Darkest Hearts (A D Hunter Mystery) (Paperback)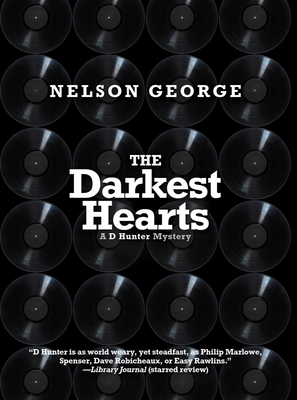 $15.95
Coming Soon - Available for Pre-Order Now
Description
---
"Nelson George's The Darkest Hearts: A D Hunter Mystery stars a talent-manager protagonist encountering human trafficking, reactionary politics, and a dead body near the Canarsie Pier."
--Library Journal, selected by Barbara Hoffert as a 2020 Title to Watch
Praise for the D Hunter mystery series:
"D Hunter is as world weary, yet steadfast, as Philip Marlowe, Spenser, Dave Robicheaux, or Easy Rawlins."
--Library Journal (starred review, Pick of the Month)
" W]ritten in the spirit of authors such as Walter Mosley and Donald Goines...The book blends music from the past with thug appeal of the present to appeal to young and old alike."
--Baltimore Times, on The Lost Treasures of R&B
"Inventive and well-written...I really enjoyed To Funk and Die in LA."
--Don Winslow, author of Savages
In the fifth book of Nelson George's D Hunter mystery series, the eponymous former bodyguard has moved full-time to Los Angeles, becoming a talent manager and trying to put his past in New York City behind him. Business is good for D Hunter: he has signed a hot Atlanta rapper named Lil Daye for management and negotiated a huge endorsement for Daye with a liquor brand. It's a big payday for both of them.
Along the way, D finds out that Samuel Kurtz, the liquor company's CEO, has some unsavory sexual habits and deeply reactionary political views. D worries that he has sold his soul and wonders what to do about it. Back in Brooklyn, a body has been found in the waters near the Canarsie Pier, a body that connects D and the retired hit man Ice to incidents from back in The Plot Against Hip Hop, the second book in the series. Because of this discovery, an FBI agent wants to speak to D, which is making Ice nervous. And Ice is not a man you want worrying about you.
Meanwhile in London, Serene Powers, a vigilante and sometime collaborator with D, breaks up a human trafficking ring. In the process, she makes some new, unlikely allies. When Serene returns to the US, D asks her for assistance with a sensitive and volatile matter in Atlanta involving Lil Daye, his wife, his mistress, and a thug on his payroll named Ant.
The Darkest Hearts, is a crime-fiction novel that reflects the challenges of being a black businessperson in an era when the rules of entrepreneurship are constantly shifting due to technological advancements and an increasingly polarized political environment.
About the Author
---
NELSON GEORGE is a celebrated writer and filmmaker whose best-selling books include The Death of Rhythm & Blues and Hip Hop America. He directed the HBO film Life Support with Queen Latifah and the documentary on dancer Misty Copeland, A Ballerina's Tale. George has written four previous novels in the D Hunter mystery series: The Accidental Hunter, The Plot Against Hip Hop, The Lost Treasures of R&B, and To Funk and Die in LA, all available from Akashic Books.