You are here
Back to top
The Castle Cross the Magnet Carter: A Novel (Hardcover)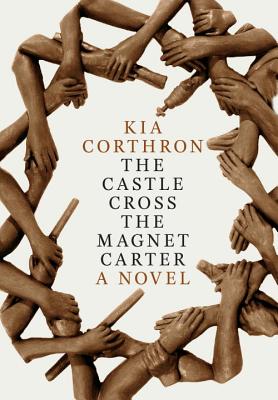 $32.00
Email or call for price.
Description
---
Winner of the Center for Fiction's 2016 First Novel Prize

The hotly anticipated first novel by lauded playwright and The Wire TV writer Kia Corthron, The Castle Cross the Magnet Carter sweeps American history from 1941 to the twenty-first century through the lives of four men--two white brothers from rural Alabama, and two black brothers from small-town Maryland--whose journey culminates in an explosive and devastating encounter between the two families.

On the eve of America's entry into World War II, in a tiny Alabama town, two brothers come of age in the shadow of the local chapter of the Klan, where Randall--a brilliant eighth-grader and the son of a sawmill worker--begins teaching sign language to his eighteen-year-old deaf and uneducated brother B.J. Simultaneously, in small-town Maryland, the sons of a Pullman Porter--gifted six-year-old Eliot and his artistic twelve-year-old brother Dwight--grow up navigating a world expanded both by a visit from civil and labor rights activist A. Philip Randolph and by the legacy of a lynched great-aunt.  

The four mature into men, directly confronting the fierce resistance to the early civil rights movement, and are all ultimately uprooted. Corthron's ear for dialogue, honed from years of theater work, brings to life all the major concerns and movements of America's past century through the organic growth of her marginalized characters, and embraces a quiet beauty in their everyday existences. 

Sharing a cultural and literary heritage with the work of Toni Morrison, Alex Haley, and Edward P. Jones, Kia Corthron's The Castle Cross the Magnet Carter is a monumental epic deftly bridging the political and the poetic, and wrought by one of America's most recently recognized treasures.
About the Author
---
The author of more than fifteen plays produced nationally and internationally, KIA CORTHRON came to national attention in the early nineties with her play Come Down Burning. Portraying characters who live in extreme poverty or crisis and whose lives are otherwise invisible, her plays paint a disturbing picture of American history and its repercussions on our most intimate relationships. Corthron's most recent awards include a Windham Campbell Prize for Drama, the Simon Great Plains Playwright (Honored Playwright) Award, the USA Jane Addams Fellowship Award, and the Lee Reynolds Award from the League of Professional Theatre Women, and she has developed work through various international residencies. She has also written for television, receiving a Writers Guild Outstanding Drama Series Award and an Edgar Award for The Wire. The Castle Cross the Magnet Carter is her first novel. She grew up in Cumberland, Maryland, and now lives in Harlem, New York.
Praise For…
---
"The Castle Cross the Magnet Carter is a stunning novel. Kia Corthron plunges us into generations of American history, moving with force and subtlety through the charged realities of race, gender and region. It is a novel of ideas and politics, of psychological complexity and of vibrant, kinetic language." --Margo Jefferson, Negroland

"Big, ambitious, challenging ... It tells the 20th-century history of the United States through the intersecting lives of two white brothers and two black brothers. It is, by turns, tender, brutal and redemptive." --Viet Thanh Nguyen, Pulitzer Prize winning author of The Sympathizer in a Q&A in the New York Times Book Review

"There are whole chunks of writing here that are simply sublime, places in which one gets swept away by the way she subverts the rhythm of language to illuminate the familiar and allow it to be seen fresh. ...  [Corthron] blindsides you.  She sneaks up from behind.  Sometimes, it is with moments of humor, but more often with moments of raw emotional power -- moments whose pathos feels hard-earned and true.... [The Castle Cross the Magnet Carter] succeeds admirably in a novel's first and most difficult task: It makes you give a damn.  It also does well by a novel's second task: It sends you away pondering what it has to say."--Leonard Fitts Jr., The New York Times Book Review (Editor's Choice)

"Kia Corthron's first novel is a stunning achievement by any measure—a riveting saga of two twentieth-century American families trapped inside the quotidian contradictions and compulsions of race, disability, and sexuality.  The untidiness of history is conveyed through experiences, dreams, and inevitable eruptions of violence, yet also unexpected patterns of escape and possible orbits of justice." —Angela Y. Davis, UC Santa Cruz

"When I first read it, I was stunned. It's a haunting and devastating tale, leavened with humor and hope ... I believe [The Castle Cross the Magnet Carter] is the most important piece of writing about twentieth-century America since James Baldwin's Another Country." —playwright Naomi Wallace quoted in Elle magazine


"Kia Corthron has written a magnificent, truly epic tale of the American Century told through the lives of two families, four brothers, three generations, big movements and small moments. It deserves a place among the great American novels precisely because it cuts to the very heart of America: the color line. In vivid, often breathtaking language, she reveals a changing world where love and sex and violence can rain down in the same cloudburst, and laughter and terror mingle easily, where the color line is not merely a barrier but a jump rope, a noose, a sign, and above all a tether that binds her characters and this country together."  —Robin D. G. Kelley, author of Thelonious Monk: The Life and Times of an American Original (2009)

"In the tradition of Toni Morrison, Alex Haley and Alice Walker, she makes the personal political, creating an epic portrayal of race in America."--Ms. magazine


"Playwright Corthron's big, open-hearted debut novel has echoes of noted writers from the mid-20th century, which serves as its backdrop: the social conscience of Steinbeck, the epic sweep of Ferber, the narrative quirks of Dos Passos. Reading Corthron's novel adds racial context to the classic works of these earlier writers. The story follows two pairs of brothers: white Randall and B.J., who grow up in rural Alabama; and black Eliot and Dwight, who grow up in small-town Maryland. For all its size, this is a modestly plotted quartet of coming-of-age stories. It begins in 1941, with studious teenage Randall sharing his love of literature and his family history. B.J., who is five years his elder, is deaf, and Randall has become his de facto caretaker. Brilliant Eliot, who's all of six years old, and hard-working Dwight, who's 12, narrate the parallel storyline in counterpointed first-person chapters. Eliot's rackety prose plays nicely off Dwight's crisp, dutiful sentences. The story moves to the late '50s, with all four young men growing up in the thick of the Civil Rights movement. Randall's ambition and B.J.'s condition necessitate a separation, with Randall moving to New York. Eliot goes to law school and Dwight gets a sensible job as a postman. The story then moves to 1993; Eliot and Randall cross paths, as readers suspect they must, and there are consequences for both. Corthron jumps to 2010 for a lengthy epilogue. This huge novel has the intimacy of memoir; Corthron's narrative voice makes it easy for readers to immerse themselves in the book, rarely coming up for air. (Jan.)" --Publishers Weekly