You are here
Back to top
Reinsurance Law: An Analytic Approach (Loose Leaf)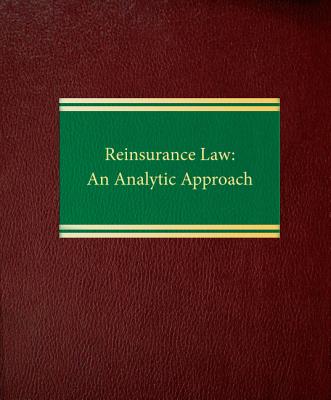 Description
---
For lawyers and insurance professionals, understanding the special vocabulary and methods of reinsurance law is essential. Reinsurance Law: An Analytic Approach covers all aspects of the field, large and small, from the varieties and uses of reinsurance to complex matters of law, markets and regulation.

Topics covered include: types of reinsurance contracts (facultative, treaty, proportional, non-proportional, and others); property and casualty reinsurance; life and health reinsurance; the convergence of reinsurance and finance; U.S. and overseas reinsurance markets; the role and liability of reinsurance brokers; common provisions in reinsurance contracts; reporting requirements; claims of privilege; grounds for disputing coverage; allocation of claims, including the follow-the-fortunes doctrine; rescission; managing general agents, managing general underwriters and pools; litigation; and insolvency of the insurer or reinsurer.

This unique guide features detailed discussion of the drafting and documentation of reinsurance contracts, a step-by-step guide to arbitration, and other useful resources for practitioners.