You are here
Back to top
Hats & Eyeglasses: A Memoir (Paperback)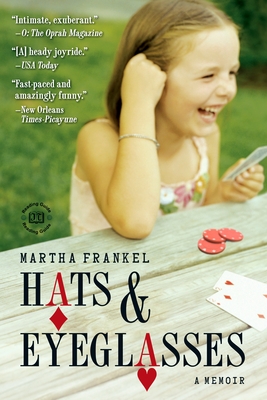 $14.95
Email or call for price.
Description
---
Martha Frankel grew up in a warm, loving family of diehard gamblers, where her father?s poker games and her mother?s mah-jongg blended happily with big pots of delicious food and endless gossip. As kids, she and her cousins bet on everything?from which of their Weight Watching mothers would lose the most to who could hold their breath longest underwater or eat the most matzo. But once Frankel left for college and later became a successful entertainment journalist, gambling didn?t factor much into her life. She thought her family legacy had passed her by.

In this ?fast-paced and amazingly funny? (The Times- Picayune) memoir, Frankel traces her love affair with poker, an obsession that didn?t hit until her mid-forties. And she was good at poker. Frankel won routinely, whether she was playing in her Wednesday-night poker game or in one of the seedy, out-of-the-way rooms she always managed to find when on assignment. But all this changed when she discovered online poker. It was the beginning of what one of her uncles called ?hats and eyeglasses,? a term used to describe those times when you?re losing so bad your ship is sinking until all that?s left on the water?s surface are your hat and eyeglasses. By turns hilarious and heartbreaking, Hats & Eyeglasses is a tale of passion, addiction? and those times in life when we almost lose our shirt.
About the Author
---
Martha Frankel grew up in a warm and loving family of die-hard gamblers, where her father's poker games and her mother's mahjong mingled with big pots of delicious food, endless gossip, and storytelling. Hats & Eyeglasses is her first book, a memoir chronicling her upbringing in a family of gamblers. She is the Executive Director of the Woodstock Bookfest and has interviewed the likes of Elizabeth Taylor, Roman Polanski, Susan Sarandon, Robert De Niro, and Leonardo DiCaprio. Her work has appeared in magazines as diverse as The New Yorker, Fashions of the New York Times, Japanese and German Men's Vogue, Redbook, Cosmopolitan, and Movieline's Hollywood Life. Frankel lives near Woodstock, New York, with her husband, woodworker and sculptor Steve Heller.