You are here
Back to top
Never Can Say Goodbye: Writers on Their Unshakable Love for New York (Paperback)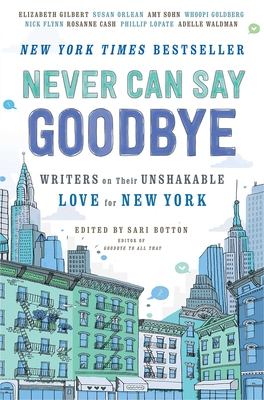 $16.99

Usually Ships in 1-5 Days
Description
---
"Gets right to the heart of what it feels like to be a New Yorker—slightly insane, broke, and madly in love. These essays made me laugh out loud with recognition. New York City isn't an easy place to live, but is anything easy really worth doing?" —Emma Straub, author of The Vacationers

The follow-up to the award-winning anthology Goodbye to All That, Never Can Say Goodbye is an exuberant celebration of New York, featuring contributions from luminaries such as Elizabeth Gilbert, Susan Orlean, Rosanne Cash, Nick Flynn, Whoopi Goldberg, Phillip Lopate, Owen King, Amy Sohn, Alexander Chee, and many others. These essays take place in dive bars and museums, cinemas and old restaurants, horse-drawn carriages and subway cars, capturing the true essence of life in New York. Never Can Say Goodbye is ultimately a love letter to the Big Apple and a must-have for every lover of New York—regardless of whether or not you call the city home.
About the Author
---
Sari Botton is the editor of the anthology Never Can Say Goodbye: Writers on Loving and Leaving New York and a writer whose work has appeared in The New York Times, New York Magazine, The Sun, The Village Voice, Harper's Bazaar, More, Marie Claire, and other publications. She is the editorial director of the TMI Project (TMIProject.org), a nonprofit organization that holds memoir and true storytelling workshops in jails, shelters, veterans' hospitals, cancer wards, schools, and other places where people don't usually get to tell their stories or be heard. Botton lives in upstate New York, where she still keeps a MetroCard in her wallet.
Praise For…
---
A collective valentine to the city.
— New York Times

A collection of personal musings that evince a devotion to New York even as the writers reflect on the reality of being a New Yorker."
— New York Daily News

"Extremely addictive, this anthology is the perfect subway read—or the perfect book to read while imagining reading on the subway."—Library Journal

"Captures stalwart New Yorkers' love/hate relationship with the world's most seductively dysfunctional town. There may be no better read to pass your wait for that next damned G train." —Will Hermes, author of Love Goes To Buildings On Fire

"[These essays] celebrate life in New York City in that quintessentially New York way. They kvetch as much as they kvell. They lament the indignities even as they lionize the perks. With humor, candor, and often deep soulfulness, these writers capture the maddening, intoxicating promise that New Yorkers make to themselves every day: the promise that, despite the exasperation and exhaustion, it's worth it." —Meghan Daum, author of My Misspent Youth and The Unspeakable

"These essays are a happy reminder of the eternal truths about New York: it smells like chicken innards; it's ripe for apocalypse; it's overpriced; it has more free stuff than anywhere else; it's dirty; it's too clean; it is the guy behind you on the subway pressing his erection into your leg; it blows doors on L.A. New York is over. Long live New York!" —Nathaniel Rich, author of Odds Against Tomorrow

"This fab book made me want to leave New York and then move the eff right back."
— Gary Shteyngart

"Never Can Say Goodbye is sharp, moving, often funny, and sometimes heartbreaking. A wonderful collection of love letters to a sublime and maddening city."—Emily St. John Mandel, author of Station Eleven

"Gets right to the heart of what it feels like to be a New Yorker--slightly insane, broke, and madly in love. These essays made me laugh out loud with recognition. New York City isn't an easy place to live, but is anything easy really worth doing?" —Emma Straub, author of The Vacationers