You are here
Back to top
The Chalice: A Novel (Joanna Stafford series) (Paperback)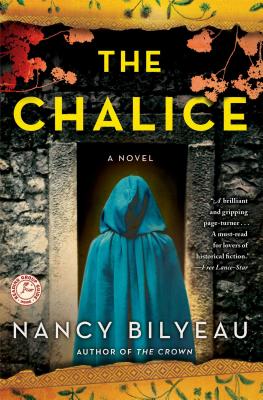 $16.80

Usually Ships in 1-5 Days
Description
---
What would you sacrifice to protect your way of life? In the sixteenth century, a young nun risks everything to defy the most powerful authorities, fulfill a prophecy, and preserve the future of Christendom.

BETWEEN THE CROWN AND THE CROSS STANDS ONE WOMAN

IN 1538, ENGLAND is in the midst of bloody power struggles that threaten to tear the country apart. Aristocrat-turned-novice Joanna Stafford knows what lies inside the king's torture rooms and risks imprisonment when she is caught up in an international plot targeting the king. As the power plays turn vicious, Joanna understands she may have to assume her role in a prophecy foretold by three different seers.

Joanna realizes the life of Henry VIII, as well as the future of Christendom, are in her hands—hands that must someday hold the chalice that lies at the center of these deadly prophecies. . . .
About the Author
---
Nancy Bilyeau, author of The Crown and The Chalice, is a writer and magazine editor who has worked on the staffs of InStyle, Rolling Stone, Entertainment Weekly, and Good Housekeeping. She is currently the executive editor of Du Jour magazine. A native of the Midwest, she lives in New York City with her husband and two children. Visit her website at NancyBilyeau.com.
Praise For…
---
"Bilyeau sends her plucky former novice back into the intrigue-laden court of Henry VIII."
— Entertainment Weekly

"The novel is riveting, and provides fascinating insight into the lives of displaced nuns and priests during the tumultuous Tudor period. Bilyeau creates fully realized characters, with complex actions and emotions, driving the machinations of these historic personages."
— RT Book Reviews, (Top Pick)

"English history buffs and mystery fans alike will revel in Nancy Bilyeau's richly detailed sequel to The Crown."
— Parade.com

"[A] layered book of historical suspense."
— Kirkus Reviews

"I loved the story, the characters and the rich detail of the novel. . . . So much emotion and drama, and surprise twists for even the most hard-to-please mystery fans!"
— DuJour Magazine

"Bilyeau paints a moving portrait of Catholicism during the Reformation and of reclusive, spiritual people adjusting to the world outside the cloister. This intriguing and suspenseful historical novel pairs well with C. J. Sansom's Dissolution (2003) and has the insightful feminine perspective of Brenda Rickman Vantrease's The Heretic's Wife (2010)."
— Booklist

"Rarely have the terrors of Henry VIII's reformation been so exciting. Court intrigue, bloody executions, and haunting emotional entanglements create a heady brew of mystery and adventure that sweeps us from the devastation of the ransacked cloisters to the dangerous spy centers of London and the Low Countries, as ex-novice Joanna Stafford fights to save her way of life and fulfill an ancient prophecy, before everything she loves is destroyed."
— C.W. Gortner, author of The Queen's Vow

"Superbly set in the political and religious turmoil between Henry VIII's queens Jane Seymour and Anne of Cleves, The Chalice is a dark, twisty thriller that I couldn't put down. Nancy Bilyeau's extensive historical research makes the sense of dread, danger, and mysticism permeating this era tangible. Ex-Dominican novice Joanna Stafford is an especially compelling and sympathetic heroine—I adored her!"
— Kris Waldherr, author of Doomed Queens

"An exciting and satisfying novel of historical suspense that cements Nancy Bilyeau as one of the genre's rising stars. The indominable Joanna Stafford is back with a cast of powerful and fascinating characters and a memorable story that is gripping while you are reading and haunting after you are done. Bravo! The Chalice is a fabulous read."
— M.J. Rose, author of The Reincarnationist

"The Chalice offers a fresh, dynamic look into Tudor England's most powerful, volatile personalities: Henry VIII, the Duke of Norfolk, Stephen Gardiner, and Bloody Mary Tudor. Heroine and former nun Joanna Stafford is beautiful, bold and in lethal danger. Bilyeau writes compellingly of people and places that demand your attention and don't let you go even after the last exciting page."
— Karen Harper, author of Mistress of Mourning