You are here
Back to top
Poor Man's Feast: A Love Story of Comfort, Desire, and the Art of Simple Cooking (Hardcover)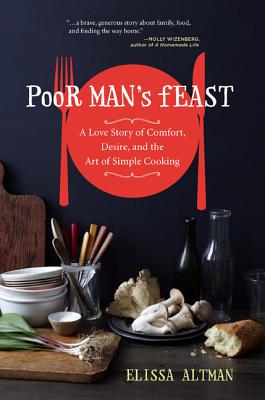 Description
---
From James Beard Award-winning writer Elissa Altman comes a story that marries wit to warmth, and flavor to passion. Born and raised in New York to a food-phobic mother and food-fanatical father, Elissa was trained early on that fancy is always best. After a childhood spent dining everywhere from Le Pavillion to La Grenouille, she devoted her life to all things gastronomical, from the rare game birds she served at elaborate dinner parties in an apartment so tiny that guests couldn't turn around to the eight timbale molds she bought while working at Dean & DeLuca, just so she could make tall food.

But love does strange things to people, and when Elissa met Susan — a small-town Connecticut Yankee with parsimonious tendencies and a devotion to simple living — it would change Elissa's relationship with food, and the people who taught her about it, forever. With tender and often hilarious honesty (and 27 delicious recipes), Poor Man's Feast is a universal tale of finding sustenance and peace in a world of excess and inauthenticity, and shows us how all our stories are inextricably bound up with what, and how, we feed ourselves and those we love.
About the Author
---
Elissa Altman writes PoorMansFeast, winner of the 2012 James Beard Award for Individual Food Blog. A food and cookbook editor as well as writer, her work has appeared in Saveur, the New York Times, Gilt Taste, the Huffington Post, and has twice been selected for inclusion in Best Food Writing. She lives in Conneticut with Susan Turner and a small herd of animals.
Praise For…
---
"...a brave, generous story about family, food, and finding the way home." -Molly Wizenberg, author of A Homemade Life

"Who wrote the book of love? Elissa Altman did. Poignant, funny and full of wisdom, every single page should be savored." - Tracey Ryder, founder and CEO of Edible Communities

"The author--a New York editor, cook, and award-winning blogger--artfully merges relationship narrative, personal history, and food memoir in this satisfying book. . . . luminous writing brings many stories small and large to feed the heart." - Publishers Weekly

"Sometimes heartbreaking, often hilarious, this is one of the finest food memoirs of recent years." - The New York Times Book Review

"Poor Man's Feast is two overlapping love stories. It is a pleasure to get to live both at Altman's joyously, irreverently laid table." - Tamar Adler, author of An Everlasting Meal

"Poor Man's Feast is a wild ride with biting highs, withering lows, and tremendous wit and humor. But throughout, there is a great tenderness that is so consistently warm and moving that when the end came, as it was bound to, I found myself searching for even just a bit more, like picking up especially divine pastry crumbs with a moistened fingertip, before gently closing the covers. A beautiful story." - Deborah Madison, author of Vegetarian Cooking for Everyone

"...one of the finest food memoirs of recent years." - Dawn Drzal, The New York Times