You are here
Back to top
Through the Children's Gate: A Home in New York (Paperback)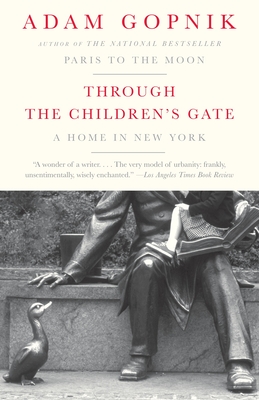 $17.80
Email or call for price.
Description
---
Not long after Adam Gopnik returned to New York at the end of 2000 with his wife and two small children, they witnessed one of the great and tragic events of the city's history. In his sketches and glimpses of people and places, Gopnik builds a portrait of our altered New York: the changes in manners, the way children are raised, our plans for and accounts of ourselves, and how life moves forward after tragedy. Rich with Gopnik's signature charm, wit, and joie de vivre, here is the most under-examined corner of the romance of New York: our struggle to turn the glamorous metropolis that seduces us into the home we cannot imagine leaving.
About the Author
---
Author of the beloved best seller Paris to the Moon, Adam Gopnik has been writing for The New Yorker since 1986. He is a three-time winner of the National Magazine Award for Essays and for Reviews and Criticism and of the George Polk Award for Magazine Reporting. He lives in New York City with his wife and their two children.
Praise For…
---
"A wonder of a writer. . . . The very model of urbanity: frankly, unsentimentally, wisely enchanted." —Los Angeles Times"In the same way that Woody Allen and E.B. White slipped a permanent lens on New York so that no one will ever again be able to experience it without filtering it through their vision, Gopnik has captured and redefined our first and best city." —Chicago Sun-Times "A love song to Manhattan. . . . As in his Paris memoir, Gopnik explores the city through the wondrous, exhausting and often hilarious scrim of parenting." —San Francisco Chronicle"Brilliant . . .  How can you not love Adam Gopnik?" —Seattle Post-Intelligencer