You are here
Back to top
The Family Next Door: The Heartbreaking Imprisonment of the Thirteen Turpin Siblings and Their Extraordinary Rescue (Mass Market)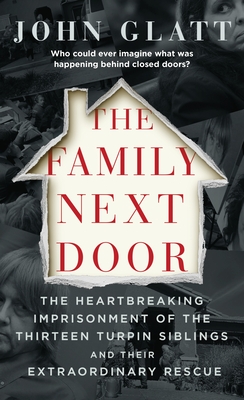 $8.99
Email or call for price.
Description
---
Thirteen siblings were held captive in their own home—and lived to tell their story.

On January 14, 2018, a seventeen-year-old girl climbed out of the window of her Perris, California home and dialed 911 on a borrowed cell phone. Struggling to stay calm, she told the operator that she and her twelve siblings—ranging in age from two to twenty-nine—were being abused by their parents. When the dispatcher asked for her address, the girl hesitated. "I've never been out," she stammered. She wasn't even sure how to spell her own last name.

Louise and David Turpin presented themselves as loving, faithful parents. On social media they shared snapshots of family outings and vacations, often with their children in matching outfits. But what police discovered when they entered the Turpin home would eclipse the most shocking child abuse cases in history. For years, Louise and David had kept their children in increasing isolation, trapping them in a sinister world of torture, fear, and near starvation.

New York Times bestselling author John Glatt's The Family Next Door is the definitive, devastating, and unforgettable account of the Turpins: a family whose dark secrets would shock and captivate the world.

"Thoroughly researched and thoroughly disturbing." —Booklist

"Unflinching...this chilling portrayal of abuse and secrecy may leave readers looking differently at their neighbors."—Publishers Weekly
About the Author
---
English-born JOHN GLATT is the author of more than twenty-five books including The Lost Girls and My Sweet Angel, and has over thirty years of experience as an investigative journalist in England and America. He has appeared on television and radio programs all over the world, including Dateline NBC, Fox News, ABC's 20/20, BBC World News, and A&E Biography.
Praise For…
---
"Thoroughly researched and thoroughly disturbing." —Booklist

"Glatt (The Lost Girls; My Sweet Angel) compellingly delves into the history…a timely account for true crime fans." —Library Journal

"Glatt unflinchingly details the victims' home circumstances...This chilling portrayal of abuse and secrecy may leave readers looking differently at their neighbors." —Publishers Weekly

"[The] horrific account of a headline-making case of criminal abuse that shook a California community...devotees of true crime will be drawn to this narrative." —Kirkus Reviews

"John Glatt takes the lid off the whole sensational story ... there are moments of this book that will astound you for their strength and grip you in total astonishment. "The Family Next Door" will have you in its clutches until its back cover is closed." —Terri Schlichenmeyer, The Marco Eagle

Praise for John Glatt:

"Chilling." —People Magazine for My Sweet Angel

"The murder case John Glatt recounts in lurid detail...is too bizarre for a work of fiction." —New York Times Book Review for The Prince of Paradise

"A gripping, read-it-all-in-one-sitting kind of book." —Kirkus Reviews for The Lost Girls

"Veteran crime scribe Glatt gives us all the atmosphere, characters and facts to make an engrossing thriller." —New York Post for The Prince of Paradise