You are here
Back to top
Grist Mill Road: A Novel (Hardcover)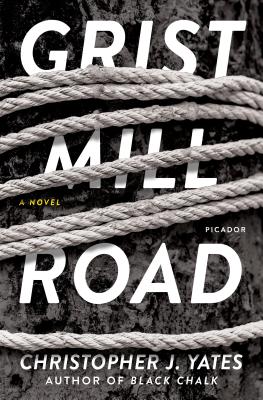 $27.30
Usually Ships in 1-5 Days
January 2018 Indie Next List
---
"I love finding a new author who writes something so great that I'm compelled to find more of their work. Christopher Yates is my new guy. At the start of Grist Mill Road, the reader witnesses an event that changes the lives of three people, Hannah, Matthew, and Patrick, who each have their moment to narrate their side of the story. Saying there is great character depth here doesn't do Yates justice; they become living, breathing human beings. This gripping story keeps your heart racing at just the right pace and the story concludes right where it should. Be prepared to put yourself in another person's shoes - well, make that three pairs of shoes."
— Nichole Cousins, White Birch Books, North Conway, NH
Description
---
An Entertainment Weekly "Must Read" • One of the NPR Book Concierge's "Best Books of the Year"
"Twisty and told from multiple perspectives, this meaty thriller races to a satisfying finish." —People magazine

"The intensity of the storytelling is exhilarating and unsettling." —Booklist (starred review)

Twenty-six years ago Hannah had her eye shot out. Now she wants justice. But is she blind to the truth?

"Arresting...Twisting backward and forward in time, entering the minds of each character in turn, Yates examines both how they reached this point and what happens years later, when the past wreaks havoc on the present....[A] sophisticated...elegant narrative." —The New York Times

"The plot is darkly, intricately layered, full of pitfalls and switchbacks, smart and funny and moving and merciless." —Tana French, New York Times bestselling author of In the Woods and The Trespasser

"Dark, intense, and disturbing...Highly recommended." —Krysten Ritter, author of Bonfire

"Two of life's delicious pleasures—gourmet delectations and a sinister, plot-twisty tale—come together in this intelligent thriller." —Oprah.com
Christopher J. Yates's cult hit Black Chalk introduced that rare writerly talent: a literary writer who could write a plot with the intricacy of a brilliant mental puzzle, and with characters so absorbing that readers are immediately gripped. Yates's new book does not disappoint. Grist Mill Road is a dark, twisted, and expertly plotted Rashomon-style tale. The year is 1982; the setting, an Edenic hamlet some ninety miles north of New York City. There, among the craggy rock cliffs and glacial ponds of timeworn mountains, three friends—Patrick, Matthew, and Hannah—are bound together by a terrible and seemingly senseless crime. Twenty-six years later, in New York City, living lives their younger selves never could have predicted, the three meet again—with even more devastating results.
About the Author
---
CHRISTOPHER J. YATES was born and raised in Kent and studied law at Oxford University before working as a puzzle editor in London. He now lives in New York City with his wife and dog. 'Black Chalk' is his debut novel.
Praise For…
---
"The plot is darkly, intricately layered, full of pitfalls and switchbacks, smart and funny and moving and merciless; the characters are all that and more. This is a powerful exploration of how truth isn't a complete and immutable thing, or a pure force of redemption: it's made up of broken shards that lie buried somewhere in the spaces between people, and when the jagged edges work their way to the surface, they can be devastating." —Tana French, author of the New York Times bestselling In the Woods and The Trespasser
"Dark, intense, and disturbing, Christopher Yates's Grist Mill Road begins with a shock and keeps the suspense burning page after page. A thriller with imagination to spare. Highly recommended." —Krysten Ritter, author of Bonfire
"Christopher Yates's Grist Mill Road is a terrific thriller. A horrid childhood crime carried secretly to adulthood, with menace lurking around the corner, and guilt hanging heavy overhead. Alfred Hitchcock would have optioned the plot in the blink of his gimlet eye. A gripping read." —Jason Matthews, author of the bestselling Red Sparrow trilogy
"The list of authors whose books I read automatically is very short, and loses more names than it adds most years. Now the British writer Christopher J. Yates is on it, thanks to this truly superb second novel, a dark, roving psychological thriller as powerful as anything by Tana French...irresistibly readable...make no mistake: Yates is the real deal." --USA Today
"Shuffling and reshuffling one's narrators has become almost a sport among suspense novelists, some of whom take it to excess. This reader, for one, balked when Paula Hawkins in effect brought one of her characters in The Girl on the Trainback from the dead, out of temporal sequence, to supply crucial information. Yates eschews such highhanded artifice, tacking back and forth in time, and from one narrator to another, with extraordinary skill." —Dennis Drabelle, The Washington Post

"Two of life's delicious pleasures—gourmet delectations and a sinister, plot-twisty tale—come together in this intelligent thriller." - Oprah.com
"An intricately crafted novel about adult lives forever changed by closely held childhood secrets. Grist Mill Road is a compulsive read that will unsettle you from its first page and surprise you until its very last." —Jung Yun, author of Shelter

"Grist Mill Road is full of tension and unexpected twists."
—Angela Carone, San Diego Magazine "5 Books to Read in January"
"Yates constructed a thrilling psychological puzzle in his first novel, Black Chalk. With his second, he's written an even more complex and propulsive whodunnit laced with questions about moral responsibility, the relativity of truth, the reliability of memory and the long-term consequences of our actions."
—Jane Ciabattari, BBC.COM "10 Books to Read in 2018"