You are here
Back to top
The Sparsholt Affair (Hardcover)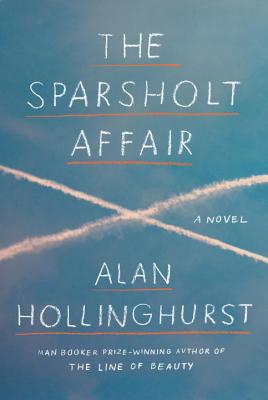 $30.40
Email or call for price.
Description
---
"Call Me By Your Name meets Evelyn Waugh in a gorgeous novel about the generations-long aftershocks of a youthful tryst." —Esquire

From the winner of the Man Booker Prize, a masterly novel that spans seven transformative decades as it plumbs the complex relationships of a remarkable family.
 
In 1940, David Sparsholt arrives at Oxford to study engineering, though his sights are set on joining the Royal Air Force. Handsome, athletic, charismatic, he is unaware of his powerful effect on others—especially on Evert Dax, the lonely and romantic son of a celebrated novelist who is destined to become a writer himself. With the world at war, and the Blitz raging in London, Oxford exists at a strange remove: a place of fleeting beauty, of secret liaisons under the cover of blackouts. A friendship develops between David and Evert that will influence their lives for decades to come.
 
Alan Hollinghurst's sweeping new novel evokes across three generations the intimate relationships of a group of friends brought together by art, literature, and love.  We witness shifts in taste and morality through a series of vividly rendered episodes: a Sparsholt holiday in Cornwall; eccentric gatherings at the Dax family home; the adventures of David's son Johnny, a painter in 1970s London. Richly observed, emotionally charged, this dazzling novel of fathers and sons, of family and legacy, explores the social and sexual revolutions of the past century, even as it takes us straight to the heart of our current age.
About the Author
---
Alan Hollinghurst is the author of the novels The Swimming-Pool Library; The Folding Star; The Spell; The Line of Beauty, winner of the 2004 Man Booker Prize and a finalist for the National Book Critics Circle Award; and The Stranger's Child. He has also received the Somerset Maugham Award, the E. M. Forster Award of the American Academy of Arts and Letters and the James Tait Black Memorial Prize for Fiction. He lives in London.
Praise For…
---
"Call Me By Your Name meets Evelyn Waugh in a gorgeous novel about the generations-long aftershocks of a youthful tryst." —Adrienne Westenfeld, Esquire
 
"Beautiful; moving . . . A complex saga that takes us, in long leaps, from the Blitz to the age of smartphones. Hollinghurst writes classically beautiful prose: constantly intelligent, alert and mobile. Hollinghurst achieves [a] symphonic effect . . . he writes with subtlety and sympathy; wisdom and understanding." —Adam Kirsch, The New York Times Book Review
 
"Alluring, virtuosic, cinematic. . . Hollinghurst wonderfully conveys the charged atmosphere of ordinary life rumbling under extraordinary circumstances. The traditional novel form seems as pleasurable and humanly true as ever in his hands." —Alexandra Schwartz, The New Yorker

"Satisfying . . . At the heart of The Sparsholt Affair are volatile secrets that can never be riddled into the light." —Sam Sacks, The Wall Street Journal

"Utterly captivating and immersive . . . Hollinghurst remains one of our most gifted writers, unspooling sentences as precise and lyrical, deft and ingenious, as any in the English language." —Priscilla Gilman, Boston Globe

"Absorbing . . . displays a masterly grasp of psychological processes and a prickling awareness of minute betrayals and inarticulate desires. When Hollinghurst picks up an aspect of human experience, he is so exacting that it's as if no one has described these things before." —Dwight Garner, The New York Times

"Hollinghurst is a superb writer. Like Henry James, he writes prose so dense with lines of beauty that you can't quite catch up to them in real time, lines that are razor close to human experience and yet — or therefore — retain a continual capacity for surprise. In The Sparsholt Affair, he has made it his project to describe the agonizingly long time it took for gay life to reach its present state of encumbered but unprecedented freedom . . . [The novel is] sad in the clear-eyed lonely fashion of Philip Larkin. Undeniably the work of a master. . . There's nothing Hollinghurst could write that I wouldn't read." —Charles Finch, Chicago Tribune

"Fascinating, magisterial . . . It captures the nuanced textures of life. Hollinghurst is a literary master." —John Powers, "Fresh Air," NPR

"Epic, elegant, intricately constructed. An overarching theme of The Sparsholt Affair is the quest for love. Chance, temptation, time, loss, and change mark the decades; Hollinghurst builds an intricate web of relationships with stately, Jamesian precision and nuance. . . Moving, heartfelt—no novelist has chronicled [the] salubrious sea change in cultural attitudes [toward homosexuality] more beautifully than Hollinghurst. His exquisite prose rewards close attention." —Heller McAlpin, NPR 

"Powerful, thrilling . . . The Sparsholt Affair is a work of characteristic subtlety and forthrightness. Hollinghurst is a writer for whom sex and fine art, sensual and aesthetic bliss, are not discrete activities, but points along a spectrum of delight." —Giles Harvey, The New York Times Magazine

"A multigenerational tapestry, ingeniously constructed and delicately written; so achingly powerful, you'll savor every page." —Lauren Morgan, Entertainment Weekly
 
"A secret history of art and desire—and its effect on an iconoclastic English family—is at the heart of a novel shaped by the keen understanding of how we live and the repercussions of the previous generation's actions." —Megan O'Grady, Vogue

"A deeply pleasurable riffing on the repressed English novel—Forster, James, Eliot, Charlotte Bronte, Austen—written with poise, lucidity, and pathos.  A gay love story doesn't have to be about thwarted longing anymore; in Hollinghurst's hands, the traditional obstacles to romance—age, upbringing, inclination, society's expectations—become sparks and, at length, a full-blown liberatory force blasting through the divisions in British society. Sex, he shows, can be about friendship and self-discovery, power, distraction, and comfort, among many other things. But love—well, love is rare. What Hollinghurst is hinting . . . [is] a desire to forget time, or, more accurately, to forget that our time is limited. . . . Beautiful." —Joanna Biggs, Harper's

"A study of how a single sensational event reverberates across the decades . . . Hollinghurst's mellifluous prose is as fine and subtly shaded as ever, and his full, persuasive immersion of the reader in the book's far-flung eras is impeccable. The Sparsholt Affair has a rich symphonic sweep as it makes its points and counterpoints." —Michael Upchurch, The Seattle Times
 
"A wonder, full of wit and tenderness—a lusciously observant dive into 20th-century English life. The novel charts the great changes in gay life in Britain over the course of a lifetime. It also betrays a whiff of nostalgia—[and is] a memorial to a way of life that has vanished. There is no better stylist alive [than] Hollinghurst." —Laura Miller, Slate

"Gorgeous . . . To read Alan Hollinghurst is to encounter beauty in its many forms. There's the beauty of the sentences—Jamesian, somehow intensely shaped and effortlessly supple.  There are beautiful characters…beautiful houses, beautiful paintings, beautiful poems.  Hollinghurst is a wicked satirist and a delicious plotter, but I most admire the seriousness with which he takes beauty—its relationship to pleasure and power, secrecy and love. David Sparsholt and his beauty serve as the plot's engine—the Chekhovian gun that you know will go off. And it does. [There is] sharp insight about time and loss, sharply expressed." —Anthony Domestico, San Francisco Chronicle.
 
"Hollinghurst is clearly writing some of the most beautiful lines currently to be found in English." —Emily Gould, Bookforum
 
"I had the distinct sense, on finishing Alan Hollinghurst's latest novel, that I might have read next year's Booker-winner before this year's had even been announced. The Sparsholt Affair is a sweeping and intimate masterpiece, full of sensual pleasures and observational wisdom." —Geoff Dyer


"Extraordinary . . . The joy and pain of The Sparsholt Affair is in revealing the locking and unlocking of secrets across generations. The joy Hollinghurst takes in life's small shards of beauty…feel[s] like the joy of life itself—when Johnny and his French friend play in the sea as teenagers, the unpremeditated elation of their bodies is like a series of arrows into the heart. Hollinghurst's oeuvre acts like a bridge for culture. As the realization dawns [that] Hollinghurst is on the side of life, the walls start to come down. Time passes and people die. The instants of pure splendor are what make life livable, make it writable. The Sparsholt Affair affirms them, again." —Josephine Livingstone, The New Republic


"Dazzling . . . Several minor Sparsholt affairs glow around the scandal of the novel's title; the [one] named in the title involves a minister of Parliament, political corruption, and a tryst between two businessmen friends. Rendered [with] consistently astonishing refinement." —Christian Lorentzen, Vulture
 
"Beautiful, potent . . . rich with the kind of emotional detail that marks Hollinghurst's best work." —Mark Athitakis, Newsday
 
"A beautifully drawn portrayal of families (both given and chosen), memory, and the compromises that can make up a life." —Adam Rathe, Town & Country Magazine

"An Alan Hollinghurst novel comes into the world with a whole heart. There's so much honest living going on in his pages—desires, needs, regrets, sex, worries, beauty, ugliness, anxiety, humor: Hollinghurst is arguably the finest coiner of character at work today. Attention to sound and imagery can be found in every one of his famously gorgeous sentences. [But] if he's a descendent of Henry James and Forster, he's also one of Jean Genet and Edmund White. In The Sparsholt Affair, Hollinghurst takes aim at nearly a century of gay life in Britain, beginning in Oxford just after the start of WWII, and ending in the present, in a gay universe of dating apps and raising children. Hollinghurst writes some of his best lines about love, loss and memory in this novel." —Christopher Bollen, Interview Magazine
 
"Cool is fine; Hollinghurst is great. Here as in his earlier works, the writer is interested in upper-crusty Oxbridge chaps making their way in society, getting entangled in art, in politics, and in bed (or a men's room, or a sauna, or a nightclub) with one another. Sex, pleasure, and beauty are fundamental to human life; Hollinghurst is uninterested in an existence that doesn't celebrate the three. Reading the author's beautiful sentences on the matter, you can be persuaded that sex, too, is an art form." —Rumaan Alam, 4Columns
 
"Tantalizing . . . The novel's primal scene is the glimpse, by Oxford students during the prescribed blackouts of the WWII blitz, of a transfixing nude male torso in a room across the quad. Hollinghurst's style [is] sophisticated, with a diamond-cutter's feel for what qualifies as an edge . . . While his characters are averting their eyes, Hollinghurst sculpts their exact shapes. He sustains his subterranean human comedy with wickedly Wildean compassion; you neither put the book down nor reach for a single stone to throw at anyone." —Tim Pfaff, Bay Area Reporter
 
"Brilliant . . . Evoked with confident richness: a seven-decade multi-generational chronicle of elite English gay life . . . Hollinghurst [holds a] commanding position, only strengthened by his latest novel, as a very contemporary English writer deeply formed by the tradition." —Randy Boyagoda, National Review
 
"A big, bold, brassy, spectacular saga of the tectonic shifts in gay lives in Britain from 1940 to 2012. . . an exuberant, highly entertaining excursion into many lives over many years." —Robert Allen Papinchak, The National Book Review
 
★ "Masterful—written in elegant, captivating prose. The story sweeps along in five interlinked sections, in which the characters move through different stages of their lives and their country's history. Hollinghurst shines a clarifying light on the gay and art worlds through decades of British cultural and political change. In this magnificent novel, Hollinghurst is at the height of his powers." —Publishers Weekly (starred, boxed review)

★ "Thrilling; fascinating . . . a novel full of life and perception. A man's inability to be honest about his sexuality has scandalous, and brutally public, consequences for several generations. Hollinghurst tracks the vast, transformative changes in gay life over many decades. Part of Hollinghurst's bold talent in this novel, as in his previous work, is to make it evident that lust, sex, and who does what with whom in the bedroom (and even how) are fitting, and insightful, subjects of literary fiction." —Kirkus (starred review)
 
"The Jamesian elegance and psychological acuity of Hollinghurst's previous novels grace The Sparsholt Affair, a multigenerational saga focusing on the Sparsholts and the effect a highly public midcentury scandal has on their family and legacy. This is a moving work from one of modern literature's finest authors." —Michael Magras, BookPage

★ "Hollinghurst's sprawling novel, suffused with lust and longing, movingly portrays the generational shift in gay experience and acceptance. Warmly recommended."—Library Journal (starred review)

★ "Superlatives are made to describe this extraordinary work of fiction. Distinguished . . . a novel notable for its sophistication. The world of art and literature and the evolving world of gay society and culture in Britain [are] brilliantly realized. Hollinghurst is especially good at evoking yearning, and, indeed, his novel will inarguably leave his readers yearning for more." —Michael Cart, Booklist (starred review)


Reviews from the U.K.

"Perhaps Hollinghurst's most beautiful novel yet—a book full of glorious sentences by the greatest prose stylist writing in English today. The Sparsholt Affair is about gay life, about art, about family, but most of all it's about the remorseless passage of time. There's always something elegiac about the movement of time in a Hollinghurst novel; there's an inevitable feeling of sorrow that comes with the end of each section. [Yet] The Sparsholt Affair is funnier and more warm-hearted than any of his books so far. Hollinghurst is wonderful on the 'beautiful delay' of university life, on the cloisters and the quadrangles, tentative intimacies building between friends and lovers: he can do an Oxford novel as well as Waugh. An unashamedly readable novel, undoubtedly the work of a master." —Alex Preston, The Observer

"This book moves from strength to strength. The immense assurance of the writing, the deep knowledge of the settings and periods in which the story unfolds, the mingling of cruel humour and lyrical tenderness, the insatiable interest in human desire from its most refined to its most brutally carnal, grip you as tightly as any thriller. Hollinghurst layers situations that cumulatively portray a culture as it exists in time as well as in space: a constellation of longings and confusions. The novel keeps pulsing: an amazing amount of the passion and folly of the human comedy is woven in, all of it beautifully observed and memorably articulated." —James Lasdun, The Guardian "
 
A novelist with a particular genius for inhabiting the past [and] an extraordinary gift for the condensing and enriching detail . . . Hollinghurst can give a tiny history of the high street and a thumbnail sketch of a life-story all in a few dozen words. His evocation of Oxford in wartime is ravishing in its detail, [and] it isn't only the overtly gorgeous passages that shine . . . Ordinary actions are ushered from one sort of life into another, carried tenderly across in language that is unhurried and precise. [Hollinghurst's writing] evokes Whistler's brushwork, Henry James's prose or Frank Lloyd Wright's way with a building, but does not recognize a separation between high and low, past and present, glory and disgrace.  With an astonishing responsiveness to light, sound, painting, the past, social nuance, music, sensation, buildings inside and out, the inner life of sentence, he is saturated in the literary past but unhindered by it." —Adam Mars-Jones, The London Review of Books
 
"Dazzlingly good: the best new novel I've read this year. Once again, Hollinghurst is both utterly sumptuous and utterly precise. Perfect scene follows perfect scene; no object in The Sparsholt Affair is too unimportant to receive his full and thrilling attention. Combining broad sweep with plenty of equally impressive close-up analysis, Hollinghurst plunges us into haute bohemia over several decades. He reminds us that yet another of his lavish gifts is for rueful comedy. Hollinghurst is as deft as ever." —James Walton, The Spectator

"Hollinghurst's novels remind you of the deep pleasures of reading novels. Such is the penetrating clarity of his perception, his ability to convey many layers of experience at once. The Sparsholt Affair is likely to provoke that same flutter of recognition in readers. It's the story of what happens before and after a sexual-political scandal, and about the lives colored by the affair… Around every episode there's a thick membrane of social detail. The reflection and refraction of history in this book is reminiscent of Virginia Woolf's family saga The Years. The Sparsholt Affair is wider in scope [and] more tender than anything Hollinghurst has written before." —Johanna Thomas-Corr, London Evening Standard 
 
"This is not your usual page-turner: it is a meticulously written, acutely insightful novel about human (mis)behavior, about time and unremitting change, with a skein of skillfully entwined what-happens-next? stories ranging over three generations. The felicities of the prose are unceasing: the observations and apercus are impeccably judged. Hollinghurst can be rigorously analytical one moment, slyly comic the next, erotic, then nostalgic, and subtle. He has his characters to a tee; the humour can ambush us. More movingly, a situation of multiple accumulations can be rendered by a single gesture—and a casual flick of the authorial eye. It would be hard, impossible, to over-praise this novel."  —Ronald Frame, The Sunday Herald (Glasgow)

"Audacious, ambitious . . . an absorbingly complex novel reaching across seven decades, with a sense of lost time in the gaps it leaves. The narrative [is] alert to implicit meanings; Hollinghurst's achievement is to make those meanings the stuff of all social exchanges. His sentences trust in our intelligence while doing justice to the unknowability of other people. Hollinghurst's prose delights." —John Mullan, The Times (Saturday Review)

"A multi-part story of a family plunged into scandal that is likely to delight fans of The Line of Beauty." —Alice Jones, Top Picks in The Independent
 
"Without a doubt, both a highlight of Hollinghurst's career, and one of the best books of the year. The novel charts the course of three generations of Sparsholts. Hollinghurst moves between times, places, and perspectives with the ease of a true master, any regret I felt at leaving each behind immediately mitigated by the majestic welcome of the next." —Lucy Scholes, The Independent

"Atmospheric. . . richly textured and alive with ironic wit. The Sparsholt Affair chronicles shifting social, cultural and sexual attitudes over eight decades, tracing twists brought about by the passing years across a broad canvas. Hollinghurst's alertness to tone and body language is acute. Urbanely satiric scenes entertainingly unroll; suave impalings of vanity are a specialty. An ambitious novel of family, sexuality and art." —Peter Kemp, The Sunday Times (UK)

"Masterly, evocative—a portrait of life in the UK before and since the decriminalization of homosexuality [from] one of our finest novelists. . . Hollinghurst's return with a new novel could hardly be better timed. The Sparsholt Affair exposes closeted gay lives of the past, and out gay lives of the present, culminating in a breathtaking description of a night of drugs and dancing in a gay club: a passage that grabs the reader by the sweaty palm and pulls him or her, elated, through the swirling debauch. The novel delineates, with leaps in time and place, shifting tastes in art and culture and social behaviors, changing attitudes to sex and relationships—and to class. As with all Hollinghurst's work, it is utterly involving, uncannily realized, beautifully written, and very moving." —Alex Bilmes, Esquire
 
"Hollinghurst is rightly regarded as one of Britain's finest observers of life. If Jane Austen's novels were about marriage eligibility, then a Hollinghurstian theme is about another sort of coupling.  [Yet] Austen would recognise his characters, many of whom are posh, privileged, well-educated. From Oxford in 1940 into our age, The Sparsholt Affair captures the changing nature of the homosexual experience as the country moves from shame and criminality to openness [and] dating apps; the most moving parts of the novel are about a man, whose long-term partner has died, being thrust into the [dating] market again, which has been transformed by the internet." —Robbie Millen, The Times (UK)