You are here
Back to top
Out of Wonder: Poems Celebrating Poets (Hardcover)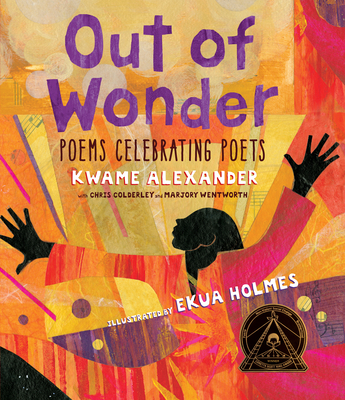 $18.99

Usually Ships in 1-5 Days
Description
---
The 2018 Coretta Scott King Illustrator Award Winner

A Newbery Medalist and a Caldecott Honoree's New York Times best-selling ode to poets who have sparked a sense of wonder.

Out of gratitude for the poet's art form, Newbery Award–winning author and poet Kwame Alexander, along with Chris Colderley and Marjory Wentworth, present original poems that pay homage to twenty famed poets who have made the authors' hearts sing and their minds wonder. Stunning mixed-media images by Ekua Holmes, winner of a Caldecott Honor and a John Steptoe New Talent Illustrator Award, complete the celebration and invite the reader to listen, wonder, and perhaps even pick up a pen.
About the Author
---
Kwame Alexander is a poet, educator, and author of twenty-one books for children and educators, including Acoustic Rooster and His Barnyard Band, Surf's Up, Booked, and a middle-grade novel in verse, The Crossover, which was awarded the 2015 Newbery Medal. He is currently the poet laureate of LitWorld, a K-6 literacy organization dedicated to supporting the development of literacy in the world's most vulnerable communities. He lives in Virginia.

Ekua Holmes is a fine artist whose work explores themes of family, relationships, hope, and faith. The first children's book she illustrated is Carole Boston Weatherford's Voice of Freedom: Fannie Lou Hamer, which was a Caldecott Honor Book and a Robert F. Sibert Honor Book and for which she also won the John Steptoe New Talent Illustrator Award. Ekua Holmes lives in Boston.
Praise For…
---
The three authors take turns emulating their idols, who include Emily Dickinson, Billy Collins and Terrance Hayes…Complementing the infectious mood of tribute is the spirited mixed-media artwork by Holmes ('Voice of Freedom'), a harmonious riot of color, texture and pattern.
—The New York Times Book Review

Newbery medalist Kwame Alexander has come up with a fresh and joyful way to interest children in poetry...Holmes takes collage work to a new level, with gloriously colored art that, the closer you look, tells further stories within stories. Each illustration captures not just the feeling of the poem, but wakes up readers to life's excitements and small joys. Exemplary words and pictures make this a multicultural masterwork.
—Booklist (starred review)

Caldecott Honor–winner Holmes's (Voice of Freedom: Fannie Lou Hamer) textured-paper collages use bold, angular forms and sunlit colors to spotlight poets and their subject matter...The exercise of celebrating poets in their own voices leads naturally to the idea of the classroom writing prompt—which Colderley, writing haiku in the style of Basho, seems to anticipate: "Pens scratching paper/ Syllables counted with care/ Poets blossoming."
—Publishers Weekly (starred review)

Powerhouse poet Alexander, along with friends Colderley and Wentworth, offers a culturally rich collection of poetic tributes that extends the legacies of poets from around the globe...This book is sure to be an educator's lucky charm for a survey-of-poetry unit and is also a perfect entryway for families to wonder and explore together. Brief notes introduce the three sections, and thumbnail biographies of the poets celebrated are appended. A magnificent exploration of the poetic imagination.
—Kirkus Reviews (starred review)

Holmes' use of collage offers the perfect visual metaphor for the act of transforming borrowed forms and ideas into powerful original art. The source poems are not included, but biographical notes for the referenced poets are, followed by information about their era and location. A nourishing and delicious feast for eyes and ears, this belongs on every bookshelf.
—Bulletin of the Center for Children's Books (starred review)

The celebrated poets here...represent a wide range of cultures and time periods. Holmes's vibrant, arresting mixed-media collages, both full pages and double-page spreads, complement and extend the themes and rich imagery presented in the poems. Educators and librarians searching for books to introduce children to influential poets as well as model texts for writing poetry will welcome this stellar title.
—The Horn Book (starred review)

Whether it inspires or entertains, Out of Wonder will transport readers of all ages, interests and backgrounds to new worlds.
—Shelf Awareness Maximum Pro

The carefully chosen and arranged selections take readers on a wondrous journey through a number of lyrical forms, from haiku to free verse, accompanied by illustrations by Caldecott honoree Holmes. The bold mixed-media and layered collage–style paintings creatively capture each poem's essence...This unusual and successful volume is a valuable addition to school and classroom libraries for writing workshops and reading pleasure.
—School Library Journal

Spanning centuries and cultures, Kwame Alexander's new collection, Out of Wonder: Poems Celebrating Poets (ages 8 to 12), is a delightful survey of verse forms and narrative voices… Ekua Holmes' stunning mixed-media illustrations have a poetry all their own, making this homage to an international group of literary legends a book to be treasured.
—BookPage

This lively collection will brighten any room—and any mind—it inhabits.
—New York Journal of Books

This marvelous collection of original poems celebrates the life and work of a marvelous diversity of 20 poets...The oversize volume makes room for Holmes' gorgeous, large collage illustrations.
—Buffalo News

Organized around writing, experience and gratitude, these reverential poems...will send well-read fans back to points of inspiration.
—San Francisco Chronicle

Ekua Holmes...creates mixed media art that is as evocative as the poems they complement and that demand we look as deeply into them as we do the poems.
—Literacy Daily

Poetry is given a special purpose in this comprehensive book of poems by three powerful authors who have tag-teamed to celebrate 20 beloved poets...The illustrations are creative, bold, and reminiscent of the era in which the celebrated poets existed.
—School Library Connection

This anthology of praise poems is exactly as advertised — wondrous.
—Boston Globe

Ostensibly self-conscious in the genre of representational art, [Ekua Holmes] deftly salutes African-American luminaries who preceded her with stunning vibrancy — extending a clear-eyed perspective and a verve that serve to open new imaginative and intellectual vistas. She also weds herself to the idea that art should carry with it crisp social commentary, editorials on the state of black America….
—WBUR's The ARTery