You are here
Back to top
The Queen of the Night (Paperback)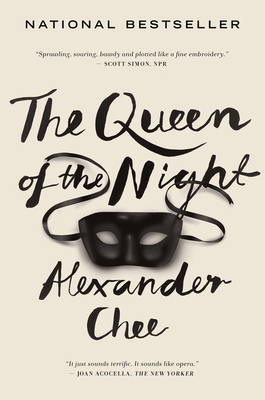 $15.95
Usually Ships in 1-5 Days
February 2016 Indie Next List
---
"This historical novel about an opera singer is as grand and theatrical as opera itself. It is the story of a legendary soprano who looks back at her past to solve a mystery, but it is also a story of an artist and the road she takes to become one. Chee attempts the seemingly impossible -- to describe a soprano voice with words -- and he succeeds brilliantly, creating a tale that is vivid, intricate, and rich. Throw in cameos by figures like Verdi and George Sand, fascinating details about royal fashions, 19th century Paris, theater, and a circus, and the result is a perfect novel."
— Anton Bogomazov, Politics & Prose Books and Coffee Shop, Washington, DC
Description
---
 National Bestseller
New York Times Book Review Editors' Choice | An Indie Next PickA Best Book of the Year from NPR, Boston Globe, Buzzfeed, Esquire, San Francisco Chronicle,Time Out, Self, Jezebel, The Portland Mercury, Electric Literature, and Entropy Magazine"It just sounds terrific. It sounds like opera." —Joan Acocella, The New Yorker

"Sprawling, soaring, bawdy, and plotted like a fine embroidery." —Scott Simon, NPR
"Dazzling." —Wall Street Journal | "A brilliant performance." —Washington Post
 
"Sweeping, richly detailed." —People | "Masterful." —Wired | "Spellbinding." —BuzzFeed
A "wild opera of a novel,"*
The Queen of the Night
tells the mesmerizing story of Lilliet Berne, an orphan who left the American frontier for Europe and was swept into the glamour and terror of Second Empire France. She became a sensation of the Paris Opera, with every accolade but an original role—her chance at immortality. When one is offered to her, she finds the libretto is based on her deepest secret, something only four people have ever known. But who betrayed her? With "epic sweep, gorgeous language, and haunting details,"** Alexander Chee shares Lilliet's cunning transformation from circus rider to courtesan to legendary soprano, retracing the path that led to the role that could secure her reputation—or destroy her with the secrets it reveals.
"If Lilliet Berne were a man, she might have been what nineteenth-century novels would call a swashbuckler: the kind of destiny-courting, death-defying character who finds intrigue and peril (and somehow, always, a fantastic pair of pantaloons) around every corner." —Entertainment Weekly
 
About the Author
---
ALEXANDER CHEE is the best-selling author of the novels The Queen of the Night and Edinburgh, and the essay collection How to Write an Autobiographical Novel. He is a contributing editor at the New Republic, and an editor at large at Virginia Quarterly Review. His work has appeared in The Best American Essays 2016, the New York Times Magazine, the New York Times Book Review, the New Yorker, T Magazine, Slate, Vulture, among others. He is winner of a 2003 Whiting Award, a 2004 NEA Fellowship in prose and a 2010 MCCA Fellowship, and residency fellowships from the MacDowell Colony, the VCCA, Civitella Ranieri and Amtrak. He is an associate professor of English at Dartmouth College.
Praise For…
---
National Bestseller
New York Times Editor's Choice
A Best Book of the Year from NPR, Boston Globe, Buzzfeed, Esquire, San Francisco Chronicle,Time Out, Self, Jezebel, The Portland Mercury, Electric Literature, and Entropy Magazine
An Indie Next Pick
One of the Most Anticipated Titles of 2016 by Entertainment Weekly, Wired, Huffington Post, Buzzfeed, BBC, Bustle, The Millions, Flavorwire, Book Riot, Brooklyn Magazine, and Bookish.
A Guardian Best Book of the Summer
A Best Book of the Year So Far from Esquire, Refinery 29, and Financial Times

"The Queen of the Night joins Tipping the Velvet and The Crimson Petal and the White as the rare historical novel in which the setting may be old, but the writing makes everything feel brand new. Alexander Chee has written a subversive, sexy epic about a young American girl who struggles more than her fans will ever understand on her way to eventually become a highly celebrated soprano at the Paris Opera House. Lillet Berne's dramatic rise to success is all the more exciting because of all the wonderful details Chee includes about her life in the late 19th century. The descriptions of her dresses alone are worth the price of this book, and Chee's knowledge about opera is such that you can almost hear the music when reading his words. But for all the research and historical detail, in the end, it's a love story, as so many of the most excellent books are."-- Maris Kreizman, Esquire

"The novel is infused with an operatic sensibility…The Queen of the Night is a celebration of these women of creativity, ingenuity, endurance, mastery and grace—a gala in their honor." —Kelly Gardiner, New York Times
 
"Epic…Brilliantly extravagant in its twists and turns and its wide-ranging cast of character." —Julia Felsenthal, Vogue
 
"[An] extravagant five-act grand opera of a novel…Chee's writing is cultured and confident, and the elite society he depicts is dazzling…Readers willing to submit to the spell of this glittering, luxuriantly paced novel will find that it rewards their attention, from its opening mysteries to its satisfying full-circle finale." —Sam Sacks, Wall Street Journal
 
"A sweeping, richly detailed historical novel about a young woman's tumultuous trajectory from circus rider to renowned soprano at the Paris Opera." —Kim Hubbard, People
 
"An opera of the page, complete with seduction, hidden identity, betrayal and plenty of costume changes…It's the ball gowns and roses, magic tricks and ruses, hubris and punishment that will keep the reader absorbed until the final aria." —Sarah Begley, Time
 
"Gorgeous prose...Extraordinarily beautiful and dramatic, a brilliant performance." —Wendy Smith, Washington Post
 
"[A] postmodern bodice ripper…It just sounds terrific. It sounds like opera…It offers a rare, intriguing psychology: the heart as a buried place, where someone is hiding, singing—words you can't quite hear." —Joan Acocella, The New Yorker
 
"[A] wild opera of a novel…Swift, smart, immersive, and gorgeous." —Garth Greenwell, The Guardian
 
"If Lilliet Berne were a man, she might have been what 19th-century novels would call a swashbuckler: the kind of destiny-courting, death-defying character who finds intrigue and peril (and somehow, always, a fantastic pair of pantaloons) around every corner…The richness of [Chee's] research is evident on every page. Paris' glittering swirl of artists, artistocrats, and underworld habitués lives vividly in his descriptions." —Leah Greenblatt, Entertainment Weekly
 
"Despite the nineteenth-century setting, the story couldn't be more appropriate for the Age of Kardashian—a masterful look at transformation and its unforeseen aftershocks." —Nathan Smith, Wired
 
"The Queen of the Night tackles the fate of history, women's sexuality, and the inner lives of forgotten courtesans who wielded power at a time when women were often powerless. The intricate ways Chee renders this past reveals so much about our present day." —Tanwi Nandini Islam, Elle
 
"Vivid, glittering…A spellbinding story of intrigue and self-reinvention." —Jarry Lee, Buzzfeed
 
"With a hint of the charm of Victorian erotica, a marvelously involute plot and a whiff of the circus in the American grain… Chee has leaped to another scale altogether…Here, that voice, a rare instance of a fairy-tale first person, is at once fabulous in its simplicity and intimate in its specificity, making the story seem historical, mythic and at the same time deeply personal." —Ellen Akins, Los Angeles Times
 
"Enchants." —US Weekly
 
"Operatically elaborate, enthralling…A bit like Verdi's La Forza del Destino in its twists and turns…Chee does an excellent job of making the world of 19th-century opera—an art form that continues to struggle with the perception that it is not fun—lively and fascinating and louche." —Spencer Lenfield, Slate
 
"A lush, imaginative novel, one that you'll hope never ends." —Claire Luchette, Travel and Leisure

"This stunning tale of an opera singer is historical fiction at its finest." —Self
 
"A multi-stranded, thoroughly researched epic." —Joe Fassler, The Atlantic
 
"The Queen of the Night is an astonishing universe into which its lucky readers can dissolve completely, metamorphosing alongside its shapeshifting protagonist. Lilliet Berne steals her name from a gravestone and launches into a life of full-throated song; her voice is an intoxicant, and this book is a glorious performance. Chee's enveloping, seductive prose is perfectly matched to the circus world of the opera." —Karen Russell
 
"A luminous tale of power and passion. Chee gives us an unforgettable heroine and a rich cast of characters—many of them real historical figures. The story dazzles and surprises right up until the final page." —J. Courtney Sullivan
 
"One doesn't so much read Alexander Chee's The Queen of the Night as one is bewitched by it. Beneath its epic sweep, gorgeous language, and haunting details is the most elemental, and eternal, of narratives: that of the necessities and perils of self-reinvention, and the sorrow and giddiness of aspiring to a life of artistic transcendence." —Hanya Yanagihara
 
"Alexander Chee packs his extraordinary second novel, The Queen of the Night, to the seams with music, love, misery, and secrets. The kind of book—world—characters—you could live inside, happily, for days and days and never once want to come up for air." —Kelly Link
 
"A night at an opera you'll wish never-ending." —Helen Oyeyemi
 
"Queen is as operative as its shape-shifting narrator…This is classical, full-throated melodrama, not so much a meditation as an aria on fate." —Boris Kachka, New York
 
"Triumphant…Chock full of romance, intrigue, and sprinklings of real history, The Queen of the Night is the first truly epic novel of the year." —Jeva Lange, The Week
 
 "Sweeping, historical, and baroque…Glittering." —Constance Grady, Vox
 
"While the book does owe much to the extravagant spirit of mid-19th-century novels and operas, it pays its debt with grace. It is wonderfully free of the faintly smirking self-consciousness and knowingness that so often attends such ventures. It works on its own terms, boldly." —Katherine A. Powers, Newsday
 
"Queen joins ranks with the best historical novels and made me think, not infrequently as I read, of one of my all-time favorites—E.L. Doctorow's Ragtime." —Sonya Chung, The Millions
 
"A fantasia set in a world of opera, dance halls and the court intrigues of Second Empire Paris." —Trisha Collopy, Minneapolis Star-Tribune
 
"The urgency with which Chee has Lilliet telling her tales…keeps the reader off balance, racing through the pages without any possibility of stopping for fear of falling flat. It is that kind of novel, the kind one devours in a weekend or stays up too late reading." —Ilana Masad, Electric Literature
 
"Impossibly deep and lyrical…You'll be hard-pressed to find a more complete reading experience this year." —Jonathan Sturgeon, Flavorwire
 
"Epic and gorgeous…It's a tale of glamour, glitter, secrets, and intrigue." —Lincoln Michel, Men's Journal
 
"A sprawling and operatic novel." —Jane Hu, The Awl
 
"Remarkable…Reading this book is deeply pleasurable, and its incorporation of historical detail feels seamless…It has all the trappings of the period: the artifice, the meticulously researched details, but at its heart is the story of a woman, lost, in love, and singing in the dark." —Natalie Bakopoulos, San Francisco Chronicle
 
"Sprawling and dramatic…Plotted with baroque intricacy." —Nicholas Mancusi, BOMB Magazine
 
"A brilliant bright star of a book…A dizzying, delightful carousel ride through traveling circus troupes, harrowing prison escapes, the pleasure dens of courtesans, and an Empress's palace wardrobe that would make Lady Gaga's look basic…The Queen of the Night is a soaring falcon." —Tabitha Blankenbiller, Bustle
 
"A fabulous sage of an indomitable woman…It's like going to a grand opera; or reading Proust. Take your pick." —Thomas Urquhart, Portland Press Herald
 
"A singular and powerful novel…It's plot is gripping…but it's also a fascinating look at art, isolation, and acclaim." —Tobias Carroll, Vol. 1 Brooklyn
 
"A grand, impeccably researched rollercoaster of a picaresque…The Queen of the Night unleashes the kind of thrill found only when you hear the voiceless sing." —John H. Maher, Entropy
 
"The Queen of the Night is a radical act of art-making…Quite simply, it's a very intricate devotion to character and story, to believing in what an act of language can become." —Carrie Lorig, Arts Atlanta

"Chee's lush and sweeping second novel uses a strikingly different setting from Edinburgh, his accomplished debut, but shares its musical themes and boldness...Chee's voice, at once dreamy and dramatic, never falters; Lilliet's cycle of reinventions is a moving meditation on the transformative power of fate, art, time, and sheer survival." —Publishers Weekly

"Chee makes a bright, bold leap into the bright, bold world of Second Empire Paris with a book inspired by opera singer Jenny Lind." —Library Journal, pre-pub announcement

"A mesmerizing novel." —Booklist

"Life as opera: the intrigues and passions of a star soprano in 19th-century Paris...Richly researched, ornately plotted, this story demands, and repays, close attention." —Kirkus, STARRED

"A completely engrossing work that should appeal to the widest range of readers, especially those with a taste for historical fiction." —Library Journal, STARRED review