You are here
Back to top
Warlight: A novel (Hardcover)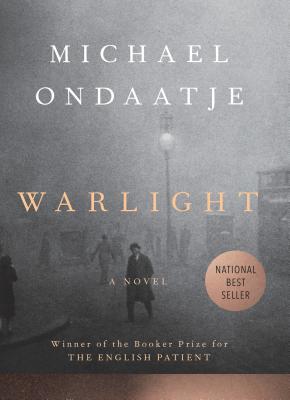 $26.95
Email or call for price.
May 2018 Indie Next List
---
"With his usual virtuosity, master storyteller Michael Ondaatje delivers a mysterious, shimmering new coming-of-age novel. Warlight is the unexpected story of two teenagers abandoned by their enigmatic parents in post-war London. Casually watched over by a dodgy cast of characters - petty criminals, opera singers, and panting greyhounds - Nathaniel and Rachel try to make sense of their new world while struggling to define their parents' shadowy wartime pasts. Years later, Nathaniel embarks on a quest to discover the disturbing truth, and his own unwitting part in it. Balancing poignance with surprising comic touches, Warlight is a stellar addition to the Ondaatje canon."
— Chrysler Szarlan, Odyssey Bookshop, South Hadley, MA
Summer 2019 Reading Group Indie Next List
---
"Ondaatje's new book, Warlight, is brilliant. The reader is drawn in by a perfect first sentence hinting at the intrigue that will unfold in the novel: 'In 1945 our parents went away and left us in the care of two men who may have been criminals.' Teenage Nathaniel and his older sister, Rachel, are left by their parents for reasons that quickly become suspect. The novel is told in parts, beginning with Nathaniel's teen years, then jumping ahead to his adult years and filling in the histories of the story's most important characters. The immature voice of teenage Nathaniel is masterfully written as the foreshadowing of the man he will become."
— Jen Wills Geraedts, Beagle and Wolf Books & Bindery, Park Rapids, MN
Description
---
NATIONAL BEST SELLER

From the internationally acclaimed, best-selling author of The English Patient: a mesmerizing new novel that tells a dramatic story set in the decade after World War II through the lives of a small group of unexpected characters and two teenagers whose lives are indelibly shaped by their unwitting involvement.

In a narrative as beguiling and mysterious as memory itself--shadowed and luminous at once--we read the story of fourteen-year-old Nathaniel, and his older sister, Rachel. In 1945, just after World War II, they stay behind in London when their parents move to Singapore, leaving them in the care of a mysterious figure named The Moth. They suspect he might be a criminal, and they grow both more convinced and less concerned as they come to know his eccentric crew of friends: men and women joined by a shared history of unspecified service during the war, all of whom seem, in some way, determined now to protect, and educate (in rather unusual ways) Rachel and Nathaniel. But are they really what and who they claim to be? And what does it mean when the siblings' mother returns after months of silence without their father, explaining nothing, excusing nothing? A dozen years later, Nathaniel begins to uncover all that he didn't know and understand in that time, and it is this journey--through facts, recollection, and imagination--that he narrates in this masterwork from one of the great writers of our time.
About the Author
---
MICHAEL ONDAATJE is the author of several award-winning novels, as well as a memoir, a nonfiction book on film, and several books of poetry. Among other accolades, his novel The English Patient won the Booker Prize, and Anil's Ghost won the Irish Times International Fiction Prize, the Giller prize, and the Prix Médicis. Born in Sri Lanka, Michael Ondaatje lives in Toronto, Canada.
Praise For…
---
"Warlight is a quiet new masterpiece from Michael Ondaatje…An elegiac thriller [with] the immediate allure of a dark fairy tale. In Warlight, all is illuminated, at first dimly then starkly, but always brilliantly." —Anna Mundow, The Washington Post

"If writers are cartographers of the heart, Michael Ondaatje's oeuvre could fill an atlas. . . [he] evokes a kaleidoscope of ideas and moods with exquisite lyricism…Warlight is an intricate ballet of longing and deception, and a singular ode to the mother-child bond." —Hamilton Cain, O Magazine

"[Ondaatje] casts a magical spell, as he takes you into his half-lit world of war and love, death and loss, and the dark waterways of the past." —Hermione Lee, New York Review of Books

"Mr. Ondaatje has stepped into John de la Carré's world of spies and criminals…his novel views history as a child would, in ignorance but also innocence and wonder." —Sam Sacks, WSJ 

"[An] intricate and absorbing novel. . . . This is a book rich with detail. The reader is bound to be conscious of a hidden ballast of research, the seven-eighths of the iceberg without which the thing would founder, but so deft is the writing that you forget this, simply appreciating the meticulous background that brings alive a time and a place. —Penelope Lively, The New York Times Book Review

"A tender coming of age story so warmly delivered you almost forget how much of its plot involves smuggling, spycraft, and assassins…the novel becomes at once a mystery tale and an exploration into how much of our lives are out of our control, especially in wartime." —Mark Athitakis, The Minneapolis Star Tribune

"Michael Ondaatje's novel Warlight is a masterpiece of shifting memory… a book made lush through layers of experience instead of description." —Bethanne Patrick, The San Diego Union-Tribune

"[A] haunting, brilliant novel from Ondaatje…Mesmerizing from the first sentence, rife with poignant insights and satisfying subplots, this novel about secrets and loss may be Ondaatje's best work yet." —Publishers Weekly (starred review)
 
"A lyrical mystery that plays out in the shadow of World War II…Ondaatje's shrewd character study plays out in a smart, sophisticated drama, one worth the long wait for fans of wartime intrigue." —Kirkus Review (starred review)