You are here
Back to top
Cherry: A novel (Hardcover)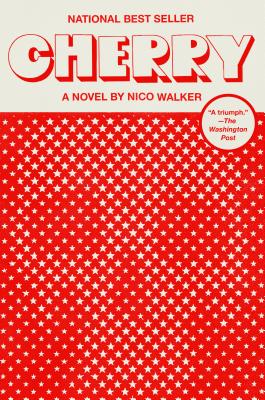 $26.95
Email or call for price.
Description
---
National Bestseller

Soon to be a major motion picture starring Tom Holland and directed by the Russo Brothers. A young medic returns from deployment in Iraq to two things: the woman he loves, and the opioid crisis sweeping across the Midwest. 

In this "miracle of literary serendipity" (The Washington Post), after finding himself deep in the thrall of heroin addiction, the soldier arrives at what seems like the only logical solution: robbing banks.  
  
Written by a singularly talented, wildly imaginative debut novelist, Cherry is a bracingly funny and unexpectedly tender work of fiction straight from the dark heart of America. 

A PEN/HEMINGWAY AWARD FINALIST
A NEW YORK TIMES NOTABLE BOOK
ONE OF THE BEST BOOKS OF THE YEAR: THE NEW YORKER • ENTERTAINMENT WEEKLY • VULTURE • VOGUE • LIT HUB
About the Author
---
Nico Walker is originally from Cleveland. Cherry is his debut novel.
Praise For…
---
"Cherry is a miracle of literary serendipity, a triumph. . . . [Walker's] language, relentlessly profane but never angry, simmers at the level of morose disappointment, something like Holden Caulfield Goes to War. . . . His prose echoes Ernest Hemingway's cadences to powerful effect. . . . Cherry is written without an ounce of self-pity by an author allergic to the meretricious poetry of despair. In these propulsive pages, Walker draws us right into the mind of an ordinary young man beset by his own and his country's demons. In the end, his only weapon against disintegration is his own devastating candor." —The Washington Post

"The rare work of literary fiction by a young American that carries with it nothing of the scent of an MFA program. . . . The voice Walker has fashioned has a lot in common with the one Denis Johnson conjured for his masterpiece Jesus' Son. . . . A novel of searing beauty." —Vulture

"A singular portrait of the opioid epidemic. . . . [Walker] writes dialogue so musical and realistic you'll hear it in the air around you." —The New York Times Book Review

"[An] unforgettable mix of doomed and dazzling. . . . There's a vivid, repulsive truth in the way Walker renders his subjects—a sort of social truth, stripped of morality, which is rare and riveting when it comes to the subjects of opioid addiction, intimate everyday cruelty, and endless, meaningless war." —The New Yorker

"One of the summer's most exciting literary breakthroughs, Cherry is a profane, raw, and harrowingly timely account of the effects of war and the perils of addiction." —Entertainment Weekly

"A buzzsaw of a novel. . . . Bracingly original." —The Wall Street Journal

"A raw coming-of-age story in reverse. . . . Cherry touches on some of the darkest chapters of recent American history." —The New York Times

"Walker tells the story in a biting staccato, by turns shrewd, heartfelt, and repellent. . . . Cherry's descriptions of Army life are as acerbic and unsparing—and often darkly hilarious—as the boot-camp scenes from Full Metal Jacket." —Mother Jones

"Walker's raw confessional novel, aptly compared to Jesus' Son and Reservoir Dogs, is a devastating example of art imitating life." —Esquire, "The Best Books of 2018 (So Far)" 

"Heavily indebted to the profane blood, guts, bullets, and opiate-strewn absurdities dreamed up by Thomas McGuane, Larry Brown, and Barry Hannah, Cherry tells a story that feels infinitely more real, and undeniably tougher than the rest." —The A.V. Club
 
"With an unforgettable voice, the narrator relates his hellacious military service in Iraq, PTSD, and descent into addiction with desperation and propulsive intensity, sustained by a dark humor and associative structure evocative of Joseph Heller's Catch-22." —The National Book Review

"Unsparingly raw and utterly gripping. This is an astonishingly good novel, written by someone who clearly has a gift for storytelling. Walker's characters, even minor players and walk-ons, are beautifully drawn. His dialogue rings achingly true. . . . A masterpiece." —Booklist (starred review)

"Nico Walker's Cherry is a wrenching, clear-eyed stare-down into the abyss of war, addiction and crime, a dark tumble into scumbaggery, but it's also deeply humane and truly funny. That is one of the reasons I love it so much: it makes you laugh and ache at the same time, in the manner of the great Denis Johnson." —Dan Chaon, author of Ill Will

"After page one, only the faint hearted will manage to put down this brilliant screech from a life of war, crime and addiction, a powerful book that declares the arrival of a real writer who has made art out of anguish." —Thomas McGuane, author of Cloudbursts and Ninety-two in the Shade

"Heartbreaking, unadorned, radically absent of pretense, Cherry is the debut novel America needs now, a letter from the frontlines of opioid addiction and, almost subliminally, a war story." —Lea Carpenter, author of Eleven Days and Red, White, Blue

"I'm so jealous about the writing in Cherry that it makes me sick. Nico Walker has written one of those perfect books in the most outrageous voice that I've come across in years. Wild and vulnerable and just talking to you in crystal perfect sentences. In a world of literary fakes and watered-down student voices, Nico Walker is like a new-found oracle of our living, breathing life. The world will call Nico Walker many things: drug addict, soldier, bank robber, and inmate. But they're all fucking lies. After reading this, you'll say only one thing: Nico Walker is one of the best writers alive." —Scott McClanahan, author of The Sarah Book and Hill William

"Someone once said there are only two things worth writing about, love and death. Nico Walker may know more about these two subjects than 99.9% of fiction writers working today. Read Cherry instead of the latest piece of fluff—it might be the only time when you truly feel a writer is actually baring their soul to you." —Donald Ray Pollock, author of The Heavenly Table

"Harrowing, heartbreaking, and sadly funny. Cherry is a terrific book, a cool book, and Walker's voice is keen and vigilant and uniquely his own." —Joe Ide, author of IQ and Righteous