You are here
Back to top
The Mystery of Capital: Why Capitalism Triumphs in the West and Fails Everywhere Else (Paperback)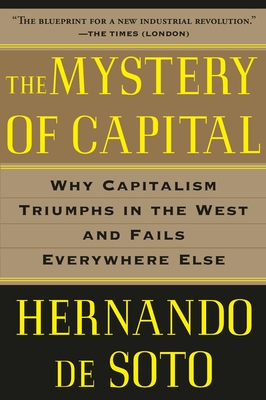 $17.99
Usually Ships in 1-5 Days
Description
---
A renowned economist's classic book on capitalism in the developing world, showing how property rights are the key to overcoming poverty
"The hour of capitalism's greatest triumph," writes Hernando de Soto, "is, in the eyes of four-fifths of humanity, its hour of crisis." In The Mystery of Capital, the world-famous Peruvian economist takes up one of the most pressing questions the world faces today: Why do some countries succeed at capitalism while others fail?
In strong opposition to the popular view that success is determined by cultural differences, de Soto finds that it actually has everything to do with the legal structure of property and property rights. Every developed nation in the world at one time went through the transformation from predominantly extralegal property arrangements, such as squatting on large estates, to a formal, unified legal property system. In the West we've forgotten that creating this system is what allowed people everywhere to leverage property into wealth. This persuasive book revolutionized our understanding of capital and points the way to a major transformation of the world economy.
About the Author
---
Hernando de Soto is President of the Institute for Liberty and Democracy, headquartered in Lima, Peru. Named one of the leading innovators in the world by Time and Forbes magazines, he now carries out property reform programs for heads of state in some 20 countries worldwide. His work was called "the most promising anti-poverty initiative in the world" by former President Bill Clinton and "a clear and promising alternative to economic stagnation" by former President George H. W. Bush. He is also author of The Other Path.
Praise For…
---
"The blueprint for a new industrial revolution."—The Times (London)

"The most intelligent book yet written about the current challenge of establishing capitalism in the developing world."—Economist

"The Mystery of Capital makes a powerful case...An important book."—Washington Post Book World

"If a nonmathematician can win a Nobel Prize in Economics, I nominate de Soto."—Lawrence Minard, Forbes Global

"In his smart new book, The Mystery of Capital, de Soto answers the question why capitalism succeeds in the West and fails in so many other places."—Thomas Friedman, New York Times

"Some books are good, some are bad, but very few are real gems. One of the few gems is the recently published book, The Mystery of Capital."—Thomas Sowell