You are here
Back to top
Small Town Talk: Bob Dylan, The Band, Van Morrison, Janis Joplin, Jimi Hendrix and Friends in the Wild Years of Woodstock (Paperback)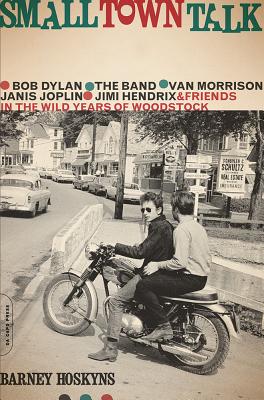 $18.99

Usually Ships in 1-5 Days
Description
---
Think "Woodstock" and the mind turns to the seminal 1969 festival that crowned a seismic decade of sex, drugs, and rock 'n' roll. But the town of Woodstock, New York, the original planned venue of the concert, is located over 60 miles from the site to which the fabled half a million flocked. Long before the landmark music festival usurped the name, Woodstock--the tiny Catskills town where Bob Dylan holed up after his infamous 1966 motorcycle accident--was already a key location in the '60s rock landscape.

Drawing on numerous first-hand interviews with the remaining key players in the scene--and on the period when he lived there himself in the 1990s--Hoskyns has produced an East Coast companion to his bestselling L.A. canyon classic Hotel California. This is a richly absorbing study of a vital music scene in a revolutionary time and place.
About the Author
---
Barney Hoskyns is a music historian, editorial director of the online music-journalism library Rock's Backpages, and author of Hotel California, Lowside of the Road: A Life of Tom Waits, and an oral history of Led Zeppelin. He lives in London.
Praise For…
---
"Replete with gossip, freewheeling dalliances, artistic adventures and tales of general wildness, it also weaves in the history of the community...A very readable and interesting book."—Chicago Life

"[An engrossing oral history of sorts...A copiously illustrated East Coast complement to his well received Los Angeles canyon classic Hotel California of a few years ago...An absorbing, totally fascinating read."—Big City Rhythm & Blues

"Hoskyns has astutely described the ebbs and flows of Woodstock (the town, not so much the festival that borrowed the town's name), its varied iconic citizenry (namely The Band, Van Morrison, and enigmatic Dylan manager/Bearsville Records magnate Albert Grossman), and how the ripples from its '60s boon have left erosions in the town to this day...Through often heartbreaking historical accounts, Hoskyns manages to craft a strong, acute account of the legacy of an enclave that almost lived up to all its Shangri-La promises."

—Chico News & Review