You are here
Back to top
Astonished: A Story of Healing and Finding Grace (Paperback)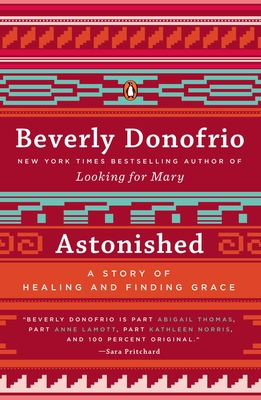 $16.00
Email or call for price.
Description
---
A narrative composed of brutal honesty, tenderness, and an aching love for God. I could not put it down. Sue Monk Kidd, author of "The Secret Life of Bees"
In the middle of her life, acclaimed memoirist Beverly Donofrio thought she d found a safe haven in a beautiful town in Mexico until she was awakened in her bed by a rapist. As she writes in this fierce, unflinching account: This was not supposed to happen. I was supposed to have escaped: I had hot flashes and liver spots and was in the final stretch.
Here Donofrio wrestles with anger toward her attacker and toward life, yet realizes her despair is not unlike that of other friends who are struggling with grave illnesses, loss of jobs, deaths of loved ones. Hoping to heal from trauma, Donofrio turns to prayer while journeying to five very different monasteries. A testimony to how anyone who is broken can move away from fear and anger toward grace, "Astonished" will not only be read and shared by fans of Donofrio's previous books, but also by anyone who hopes to be inspired by Donofrio's strength and her search for faith, healing, and identity.
About the Author
---
Beverly Donofrio lived for four years as a lay Carmelite at Nada Hermitage in Colorado, where she began this book. The acclaimed author of "Riding in Cars with Boys" and "Looking for Mary," she teaches for the MFA program at Wilkes University in Pennsylvania.
Praise For…
---
Praise for Astonished by Beverly Donofrio:

"This is the story of a sabbatical, but not from teaching. After being raped in Mexico, Donofrio lives in retreat houses in the American West where she confronts the evil forces that file through the hole in her soul created by the rape. She cries, prays, watches birds and throttles her narcissism. Spiritually sore, she comes to understand St. Paul's words: 'When I am weak, I am strong.' An ardent feminist, she forgives and undergoes a sea change in the desert. Written with mordant humor, searing honesty, and an eye for the mysteries of love, nature and monkish life."
—J. Michael Lennon, Salon.com (selected for Salon's Ultimate Book Guide for 2013)

"Reading Donofrio's memoir, Astonished, is, in itself, an astonishing experience. She grapples with her faith in ways and in words that startle, move, mesmerize, wrench, enliven, and thrill the reader. It is a narrative composed of brutal honesty, tenderness, and an aching love for God. I could not put it down."
—Sue Monk Kidd, author of The Secret Life of Bees

"A smart, funny memoir about a woman seeking answers to some very hard questions. . . . Donofrio's intelligent and down-to-earth delivery gives [Astonished] a meditative feel. For her,'bringing God into the picture makes me pay closer attention.' Her writing does the same thing for us. Her bravery helps. She holds nothing back."
—San Francisco Chronicle

"The brutally honest author of Riding in Cars with Boys reveals how a terrifying brush with a rapist sparked her spirituality and set her on a journey of recovery paved with prayer."
—O Magazine
 
"What's most compelling, besides Donofrio's simultaneously warm and tough-as-nails voice, is the openness of her heart toward good old-fashioned faith, and her willingness to accept God into her life, if she could only figure Him out. . . . The fact that she was able to take such ugliness and transform it into the beauty of this book is a stunning accomplishment."
—The Daily Beast

"To me, Beverly Donofrio is part Abigail Thomas, part Anne Lamott, part Kathleen Norris, and 100 percent original. Terrifying and, at moments, terribly funny. Candid, compelling, and, above all else, wise. Here's Beverly Donofrio, the rebellious teenager and tough single mother from Riding in Cars with Boys, forty years later, still vulnerable, still resilient, tested and tempered by life, and finally forging her own peace. Astonished is a seeker's and writing woman's spiritual journey through doubt and despair, emerging in cowboy boots, green tights, and prayer."
—Sara Pritchard, author of Crackpots and Help Wanted: Female

"Donofrio's journey around the country and into her inner life is compelling material beautifully written. Perpetually humble, searching, honest and wry, Donofrio is a fine companion for a spiritual journey."
—BookPage
 
"It is an unsparing but also hopeful account of evil and misery and suffering as well as joy and goodness and forgiveness. 'Don't run from the pain,' Donofrio writes. She doesn't. Instead, Astonished transcends it."
—Booklist

"Best known for Riding in Cars with Boys (1990), her first memoir about her teenage pregnancy and single motherhood, the author was raised Catholic. ... Her story is one of reconciliation ... [and] the conclusion of her journey, following her torrent of questions for and about divine power, lies in her realization that her faith is unshakeable and her attack, ultimately, showed her the heart of God. Honest, engaging, and cathartic."
—Kirkus Reviews

"As beautiful as it is authentic, Astonished is one of the most compelling, appealing, and instructive spiritual autobiographies I have read in many a year.
—Phyllis Tickle, author of The Great Emergence: How Christianity Is Changing and Why
 
"An insightful, candidly unfolding, soul-bearing journey to grace."
—Publishers Weekly

"Anyone who can read Bev Donofrio's first paragraph and stop should be interdict for life from libraries and bookstores. She is one first-class human being and, to my mind, a down-and-dirty saint. I'm grateful for the privilege of being invited into her radiant soul."
—William J. O'Malley, S.J., author of The Fifth Week

"Expect lots from this memoir by Donofrio, as she's already made her mark in this genre: her best-selling Riding in Cars with Boys was translated into 16 languages and made into a film, while Looking for Mary was a Discover Great New Writers pick. Here she writes about living in Mexico, where she studied yoga, drank margaritas, and began hungering for religious experience. One night she awoke with a rapist in her bedroom and a knife at her throat. In a book begun at the Nada Hermitage in Colorado, where she was a lay Carmelite for four years, Donofrio recounts facing down her subsequent anger and fearfulness and learning to embrace life, even as she spent time in five monasteries hoping to touch the face of God. With a five-city tour."
—Library Journal