You are here
Back to top
The Vixen: A Novel (Hardcover)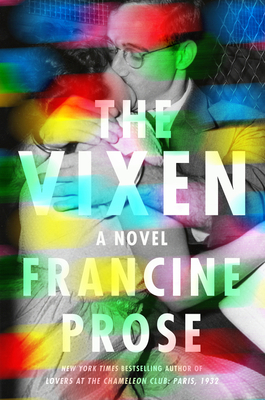 $25.99
Email or call for price.
Description
---
Named one of the best books of 2021 by NPR, The Washington Post, and Financial Times
"No one states problems more correctly, more astutely, more amusingly and more uncomfortably than Francine Prose . . . The gift of her work to a reader is to create for us what she creates for her protagonist: the subtle unfolding, the moment-by-moment process of discovery as we read and change, from not knowing and even not wanting to know or care, to seeing what we had not seen and finding our way to the light of the ending."—Amy Bloom, New York Times Book Review
"Depending on the light, it's either a very funny serious story or a very serious funny story. But no matter how you turn it, The Vixen offers an illuminating reflection on the slippery nature of truth in America, then and now."—Washington Post
Critically acclaimed, bestselling author Francine Prose returns with a dazzling new novel set in the glamorous world of 1950s New York publishing, the story of a young man tasked with editing a steamy bodice-ripper based on the recent trial and execution of Ethel and Julius Rosenberg—an assignment that will reveal the true cost of entering that seductive, dangerous new world. 
It's 1953, and Simon Putnam, a recent Harvard graduate newly hired by a distinguished New York publishing firm, has entered a glittering world of three-martini lunches, exclusive literary parties, and old-money aristocrats in exquisitely tailored suits, a far cry from his loving, middle-class Jewish family in Coney Island.
But Simon's first assignment—editing The Vixen, the Patriot and the Fanatic, a lurid bodice-ripper improbably based on the recent trial and execution of Ethel and Julius Rosenberg, a potboiler intended to shore up the firm's failing finances—makes him question the cost of admission. Because Simon has a secret that, at the height of the Red Scare and the McCarthy hearings, he cannot reveal: his beloved mother was a childhood friend of Ethel Rosenberg's. His parents mourn Ethel's death.
Simon's dilemma grows thornier when he meets The Vixen's author, the startlingly beautiful, reckless, seductive Anya Partridge, ensconced in her opium-scented boudoir in a luxury Hudson River mental asylum. As mysteries deepen, as the confluence of sex, money, politics and power spirals out of Simon's control, he must face what he's lost by exchanging the loving safety of his middle-class Jewish parents' Coney Island apartment for the witty, whiskey-soaked orbit of his charismatic boss, the legendary Warren Landry. Gradually Simon realizes that the people around him are not what they seem, that everyone is keeping secrets, that ordinary events may conceal a diabolical plot—and that these crises may steer him toward a brighter future. 
At once domestic and political, contemporary and historic, funny and heartbreaking, enlivened by surprising plot turns and passages from Anya's hilariously bad novel, The Vixen illuminates a period of history with eerily striking similarities to the current moment. Meanwhile it asks timeless questions: How do we balance ambition and conscience? What do social mobility and cultural assimilation require us to sacrifice? How do we develop an authentic self, discover a vocation, and learn to live with the mysteries of love, family, art, life and loss?
About the Author
---
Francine Prose is the author of twenty-two works of fiction including the highly acclaimed The Vixen; Mister Monkey; the New York Times bestseller Lovers at the Chameleon Club, Paris 1932; A Changed Man, which won the Dayton Literary Peace Prize; and Blue Angel, which was a finalist for the National Book Award. Her works of nonfiction include the highly praised Anne Frank: The Book, The Life, The Afterlife, and the New York Times bestseller Reading Like a Writer, which has become a classic. The recipient of numerous grants and honors, including a Guggenheim and a Fulbright, a Director's Fellow at the Center for Scholars and Writers at the New York Public Library, Prose is a former president of PEN American Center, and a member of the American Academy of Arts and Letters and the American Academy of Arts and Sciences. She is a Distinguished Writer in Residence at Bard College.
Praise For…
---
"A rollicking trickster of a novel, wondrously funny and wickedly addictive." — Maria Semple, New York Times bestselling author of Where'd You Go, Bernadette
"Can a novel be wildly intelligent, deeply compassionate, politically astute and utterly absorbing?  In her dazzling new novel Francine Prose accomplishes all of this, and more, as she explores the fate of the Rosenbergs and the travails of an editorial assistant new to both publishing and love. The Vixen is irresistible." — Margot Livesey, author of The Boy in the Field
"In an enthralling new novel, Francine Prose, a maestro storyteller, interrogates the murky symbiotic relationship between history and individuals: Is it the senselessness of history that undermines and rewrites each person's life story, or, is it a collection of cruelties from individuals that change the course of history? Equally suspenseful and philosophical, The Vixen is both a page tuner set in an era of espionage, conspiracy and mistrust, and an exploration of one of the sustaining factors of civilization that also has to sustain perennial attack from politics and history: human decency." — Yiyun Li, author of Must I Go
"Prose is a powerhouse. The Vixen will fascinate and complicate the histories that haunt our present moments. Like Coney Island's Cyclone, this story tumbles and tangles a reader's grip of reality. It's told with the heart, humor and daring of a true artist. Prose's Vixen is a triumph and a trip through the solid magic that books make real." — Samantha Hunt, author of Mr. Splitfoot
"Only a writer as deft and ingenious as Francine Prose could tell us the story of the American present, slantwise, through the McCarthy past. A bright Coney Island Jew tries to rise in the gin-soaked world of WASP publishing, where his job is to mash the tragedy of the Rosenberg executions into pulp. I relished every page of this hilarious, cunning and utterly engrossing novel, and came away with a startling recognition of the place we now call home." — Danzy Senna, author of Caucasia and New People
"Combining elements of mystery and romance, Prose's novel is a sly indictment of Cold War paranoia." — The New Yorker
"No one states problems more correctly, more astutely, more amusingly and more uncomfortably than Francine Prose . . . Her insights, the subtle ones and the two-by-fours, make me shake my head in despair, in surprise, in heartfelt agreement. The gift of her work to a reader is to create for us what she creates for her protagonist: the subtle unfolding, the moment-by-moment process of discovery as we read and change, from not knowing and even not wanting to know or care, to seeing what we had not seen and finding our way to the light of the ending." — New York Times Book Review
"A pleasingly intricate plot that hinges, inevitably, on lies and betrayal, both personal and political. There are spies here, and traitors. But in the richly textured place and time that Ms. Prose portrays with her usual skill, there are few clear distinctions." — Wall Street Journal
"Prose holds up a mirror to a fractured culture in this dazzling take on America's tendency to persecute, then lionize, its most subversive figures. . . . This is Prose at the top of her game." — Publishers Weekly (starred review)
"Depending on the light, it's either a very funny serious story or a very serious funny story. But no matter how you turn it, The Vixen offers an illuminating reflection on the slippery nature of truth in America, then and now." — Washington Post
"Prose is a master of language, and her captivating words are all the more striking in contrast to the novel's intentional profanity. Good fiction entertains and asks questions, gesturing to truths beyond the novel itself. The Vixen does just that, with an extra note of fun." — BookPage (starred review)
"Like a fable, the story is animated by the tug-of-war between principle and personal ambition. Prose has crafted an inspired work of fiction that, while staying within a realistic framework, does for an invented New York publishing house what Ira Levin did for a certain Manhattan apartment building in Rosemary's Baby." — Shelf Awareness
"I know book people are wont to throw around the phrase "compulsively readable," but in the case of Francine Prose's The Vixen, I can't help myself. I read it with compulsion . . . Come for the propulsive mystery and sentence-level tautness, stay for the 1950s publishing mise-en-scène." — Literary Hub (38 Novels You Need to Read This Summer)
"Prose ingeniously takes on publishing, the fallout of WWII, and McCarthyism in a gloriously astute, skewering, and hilarious bildungsroman . . . Mordant, incisive, and tenderhearted, Prose presents an intricately realized tale of a treacherous, democracy-threatening time of lies, demagoguery, and prejudice that is as wildly exhilarating as the Cyclone, Simon's beloved Coney Island roller coaster." — Booklist (starred review)
"The Vixen is a deeply and unexpectedly funny book. Prose, with her signature brand of humor, is arguably the only person who could have written this book well." — Shondaland.com
"Prose's exuberant, lighthearted novel immerses the reader in 1950s ambience, yet it's full of winks and nods to the current political climate. Simon, our overheated narrator, pulls us along as he stumbles into Cold War intrigue, and we're never sure which way the plot will turn until literally the last sentence. What a delightful read!" — Library Journal
"Smart, assured fiction from a master storyteller and thoughtful social commentator." — Kirkus Reviews
"Francine Prose has brilliantly used the Rosenbergs' story as the foundation for a captivating coming-of-age tale about ambition, love, family loyalty, truth and lies, and the publishing business. . . . There are many moments when one can imagine Philip Roth or Joseph Heller smiling at Prose's ingenuity and verve. She long ago secured her literary reputation, and The Vixen will only serve to burnish it." — Bookreporter.com
"The Vixen is deeply chilling but also laugh-out-loud funny." — Financial Times (Best Books of 2021: Fiction)