You are here
Back to top
The Destroyers: A Novel (Hardcover)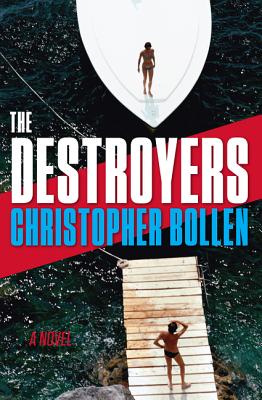 $29.39
Email or call for price.
Description
---
An Esquire Best Book of the Year
A Paste Best Novel of the Year
Recommended by the New York Times, Entertainment Weekly, TIME, Vogue, Paste, New York Post, St. Louis Post-Dispatch, Seattle Times, Yahoo!, Refinery29, BBC, PopSugar, Boston Herald, New York Social Diary, Library Journal, Bookstr, Kirkus
"A seductive and richly atmospheric literary thriller with a sleek Patricia Highsmith surface." —New York Times Book Review
"Equal parts Graham Greene, Patricia Highsmith, and F. Scott Fitzgerald, The Destroyers is at once lyrical and suspenseful, thoughtful and riveting." —Garth Greenwell, author of What Belongs to You
"The Destroyers is one superb novel, a tightly woven and fast-moving narrative set in beautifully crafted prose. A read-all-night of a book." —Alan Furst, author of A Hero of France
When Charlie and I were young, we played a game called  Destroyers. . . . We were sharpening our instincts, jettisoning attachments. We were honing strategies for survival. . . .
Arriving on the Greek island of Patmos broke and humiliated, Ian Bledsoe is fleeing the emotional and financial fallout from his father's death. His childhood friend Charlie—rich, exuberant, and basking in the success of his new venture on the island—could be his last hope.
At first Patmos appears to be a dream—long sun-soaked days on Charlie's yacht and the reappearance of a girlfriend from Ian's past—and Charlie readily offers Ian the lifeline he so desperately needs. But, like Charlie himself, this beautiful island conceals a darkness beneath, and it isn't long before the dream begins to fragment. When Charlie suddenly vanishes, Ian finds himself caught up in deception after deception. As he grapples with the turmoil left in his friend's wake, he is reminded of an imaginary game called Destroyers they played as children—a game, he now realizes, they may have never stopped playing.
An enthralling odyssey and a gripping, expansive drama, The Destroyers is a vivid and suspenseful story of identity, power and fate, fathers and sons, and self-invention and self-deception, from a writer at the very height of his powers.
About the Author
---
CHRISTOPHER BOLLEN is the author of the critically acclaimed novels A Beautiful Crime, The Destroyers, Orient, and Lightning People. He is frequent contributor to a number of publications, including Vanity Fair, The New York Times, and Interview. He lives in New York City.
Praise For…
---
 "[Bollen] reveals a graceful prose>The Destroyers. Sharp imagery and incisive descriptions bring to life both the Greek island of Patmos and the moneyed class laying claim to it.... The suspense here is less high-speed chases or chapter-ending cliffhangers than something out of Patricia Highsmith—hardly a complaint." — Washington Post
"Beautiful people visiting glamorous places, being wicked enough to bring Patricia Highsmith to mind. It just isn't summer without this kind of globe-trotting glamour to read about, especially when most of it is set in the Aegean. Bollen is stylish enough to know what sells.... Escapism, as calculating as it gets."   — New York Times
"A delicious literary thriller." — People
"In this Talented Mr. Ripley-esque thriller, you'll get transported to the remote and dazzling Greek island of Patmos where Europe's glitzy jet set cavort all summer long." — Esquire
"[A] stylish literary study of the games moneyed people play." — Entertainment Weekly
"Just try keeping The Talented Mr. Ripley — that shimmering 1999 movie, based on a Patricia Highsmith novel, of rich Americans getting into picturesque trouble in the sunny Mediterranean — out of your head while reading this dark-side-of-summer novel.... I rapidly turned the pages, lost in the harsh sunlight of Bollen's world." — Seattle Times
"A seductive and richly atmospheric literary thriller with a sleek Patricia Highsmith surface." — New York Times Book Review
"Christopher Bollen's third novel, The Destroyers, was pretty much custom-built for beach reading—lies! Murder! Rich people vacationing on a Greek Island!... He's a longtime fan of Agatha Christie, which shows in his terrific mystery plotting, but he's also a beautiful writer of prose and a canny psychologist of his characters.... The ideal summer page-turner." — Vogue.com
"A particularly transporting beach read."  — T Magazine
"Intellectually intriguing and eerily timely." — BBC.com
"The perfect literary thriller set under the Grecian sun." — Refinery29
"Christopher Bollen's literary thriller is an exemplar of the form—one of those rare novels that not only embraces all the conventions of its genre but elevates them." — Paste
"A very sophisticated, stylish journey…. The ideal beach read... Bollen's writing is sharp, and the story is exciting and keeps you guessing as to what game is being played and who is masterminding it all." — Yahoo! Style
"A perfect summer read in the tradition of Patricia Highsmith.... A character-driven mystery where the writing is frequently as luxurious as its setting." — Village Voice
"A sophisticated, sexy thriller." — PopSugar
"A pitch-perfect literary thriller, Bollen's third novel has drawn comparisons to Patricia Highsmith and Donna Tartt." — Departures
"Christopher Bollen... follows up his gripping thriller Orient with The Destroyers, an elegant and twisting suspense novel that is earning comparisons to the genre's great lesbian doyenne, Patricia Highsmith." — OUT
"Patricia Highsmith meets F. Scott Fitzgerald" — New York Post
"Engrossing.... Bollen takes his time unraveling the seeds of deceit, obsession and secrets, building suspense with each page." — BookPage
"A perfect summer read.... Louche, suspenseful, and polysexual." — 429
"The Destroyers is a smart, sophisticated literary thriller; for all its originality, it invokes the shades of Lawrence Durrell and Graham Greene." — Jay McInerney, author of Bright, Precious Days
"Bollen manages to create a novel that is equal parts literary and thrilling. His beautiful sentences linger, and each of his characters have rich, complicated pasts that unfold over time... a cinematic and insightful reflection on wealth and the horrendous things it can drive people to do, even to the ones they love." — Publishers Weekly
"The Destroyers is one superb novel, a tightly woven and fast-moving narrative set in beautifully crafted prose. A read-all-night of a book." — Alan Furst, author of A Hero of France
"An eminently worthy heir to Patricia Highsmith. At once gritty, sandy, and silky-good reading for the beach or a yacht, too." — Kirkus
"Intoxicating." — Booklist
"With the swiftness of a thriller and the density of art, Christopher Bollen's new novel explores the sting of disgrace and the dangerous lure of redemption. Equal parts Graham Greene, Patricia Highsmith, and F. Scott Fitzgerald, The Destroyers is at once lyrical and suspenseful, thoughtful and riveting." — Garth Greenwell, author of What Belongs to You
"Atmospheric... a slow-building, literary motorbike ride down steep Greek hillsides.... The writing is sharp, languid, and lovely, and the first-person point of view is a narrowly focused beam that eventually grows to encompass the entirety of the island." — Library Journal
"Possessed of both The Talented Mr.Ripley's cold-blooded electricity and a beguiling elegance, The Destroyers enfolds. A propulsive, hypnotic portrait of rot at paradise's heart and of the sprawling, inescapable tendrils of class and avarice." — Sophie McManus, author of The Unfortunates
"I tore through Christopher Bollen's The Destroyers.... Bollen writes so extraordinarily well, conjures up such striking imagery, smart dialogue and even a few jolting surprises. I loved it, and pondered the future of each character — those who survived, at any rate." — New York Social Diary  
"If you like your thrillers sexy, smart and elegant, don't miss Christopher Bollen's The Destroyers. It manages to be both fast-paced and contemplative, an excellent entertainment and also something more lasting, a haunting meditation on friendship and desperation." — Guardian, London